Q&A with PYR's Sara Dayton on the Launch of Penguin Print House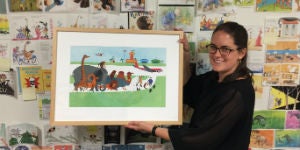 This week, Penguin Young Readers and Framebridge are bringing book illustrations off the pages and onto your wall for the first time with the launch of Penguin Print House, a new collection of limited edition framed artwork from beloved children's books. Featuring vibrant art from timeless classics, celebrated award-winners, and current bestsellers, the collection offers bright, fun, and playful décor options for every nursery and children's bedroom. Visit Framebridge for more information and to view the collection.
Penguin Print House evolved from a pitch by Sara Dayton, Digital Product Manager, Penguin Young Readers, in an early cohort of InkTank (see below for  details). Here Sara offers insights into how Penguin Print House went from idea to reality.
How did the idea of Penguin Print House come about?
I worked at the Museum of Modern Art before starting at Penguin—I was surrounded by beautiful artwork in both offices, and always wondered why Penguin didn't sell high quality prints of their artwork the way MoMA does. My pitch was inspired by that observation, and over the twelve weeks of InkTank I refined the idea to work within the constraints of our business.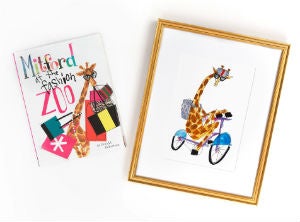 Why partner with Framebridge?
We have incredible art, but to make this idea happen we definitely needed help with the logistics of selling prints. I identified Framebridge as a potential partner early in the process, and when I reached out to them they were immediately enthusiastic about the idea. We took a trip to their offices in Washington, D.C. late last year, and after meeting the team and seeing their products in person it felt like a very natural fit. They've been able to facilitate many elements that would've been problematic for us, and have been the perfect partner to get our illustrators' art out into the world in a very different way.
When did you know Penguin Print House was going to become a reality?
It took a long time to feel like it would definitely happen! There was a lot to figure out, from big picture questions like the structure of contracts and how we would process payments, to small details like working with the illustrators and Framebridge to have the prints color-matched perfectly to the books. But as soon as we started getting the illustrators' signed certificates (each print includes a signed Certificate of Authenticity in a custom pocket on the back of the frame), it felt like the real deal.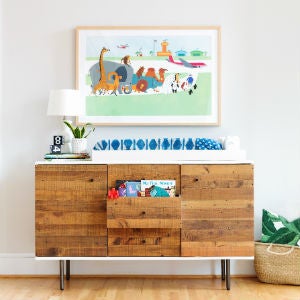 What prints will be available as part of the Penguin Print House Launch collection?
The launch collection includes 12 prints with art from CORDUROY by Don Freeman, LLAMA LLAMA RED PAJAMA by Anna Dewdney, DRAGONS LOVE TACOS written by Adam Rubin and illustrated by Daniel Salmieri, MITFORD AT THE FASHION ZOO by Donald Robertson, MAX AND MARLA by Alexandra Boiger, THE NOT SO QUIET LIBRARY by Zachariah OHora, WONDER BEAR by Tao Nyeu, and MY ABC BOOK and THE ANIMALS' VACATION from the Grosset & Dunlap Vintage line. We plan to introduce new books and illustrators to the collection, so stay tuned to see what we add next.
What are others saying about Penguin Print House?
"We were excited to work with Penguin Young Readers and their amazing artists because the stories and imagery from these iconic books provide such lasting, magical and happy experiences for young kids and their families. It's a natural fit to take these cherished artist works and place them on the wall where they can inspire fun and creativity in a new generation of readers while bringing back special memories for so many of us."
Susan Tynan, Framebridge founder and CEO
"I am very proud Penguin Young Readers is the first to launch a project like this. It was an awesome idea we knew we needed to make a reality. Each time Sara presented Penguin Print House to internal stakeholders, the typical response was either "this is a no-brainer" or "why didn't I think of this?" This is very special and a truly unique way to showcase the work of our many talented illustrators. I can't wait for the prints to be out in the world.
Adam Royce, VP Digital Content, Penguin Young Readers
"We are so excited we've been able to bring this idea to life and we look forward to introducing new books and illustrators to the collection over the next year. Our goal is always to extend the Penguin brand and the life of our books, whether that be on the page or off. Penguin Print House allows us to do exactly that in an exciting and innovative way, while also giving our illustrators the opportunity to earn additional revenue from their beautiful work."
Jen Loja, President, Penguin Young Readers
"Penguin Print House embodies the spirit of InkTank, which was designed to harness the creativity, ingenuity and passion of our employees to develop new ways to drive reach and revenue for our books and authors. Sara participated in a three-month pilot program last year and has worked tirelessly with the support of PYR since then to make this concept a reality. It's so exciting to be bringing these iconic illustrations off the page and into readers' homes to be experienced in an entirely new way."
Alison Rich, VP, Publishing Innovation Development, Penguin Random House
Read the Penguin Print House Launch Announcement.
Posted: July 26, 2017