PW Star Watch 2022: Honoring "Publishing's Brightest"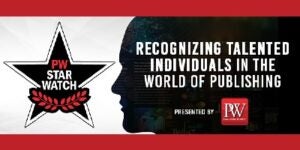 This year, six of our Penguin Random House colleagues were among Publishers Weekly 2022 Star Watch Honorees.  Under the headline, "Publishing's Brightest", the honorees —who  count among them an art director, a marketing manager, two editors, a corporate communications director, and a metadata manager — are celebrated for the incredible work they do to diversify and move the publishing industry forward.
All of the honorees were profiled in PW Star Watch 2022. 
Read on to learn more about your PRH colleagues and the work they're doing. And a very big congratulations!
---
Mary Claire Cruz, Associate Art Director 
Penguin Workshop
Mary Claire Cruz was a senior designer at Houghton Mifflin Harcourt when, in fall 2020, she participated in a Children's Book Council panel titled "How to Speak Like a Designer." In the audience was Lynn Portnoff, senior art director at Penguin Workshop, who says that when Cruz spoke, "my ears perked up right away, and I was immediately inspired. She talked with enthusiasm about her unique book design process and the importance of collaboration. I knew right away that she would make a great art director."
By the end of that year, Cruz was offered her current position at Penguin. Among the licenses she works on is the red-hot brand Bluey.
Beyond her directorial responsibilities, Cruz also designs high-profile and complex books on the Penguin Workshop list that have become bestsellers and been recognized in art and design shows. She designs books across ages and genres, including the picture books MY FADE IS FRESH and FINDING MY DANCE, and covers for middle grade titles including THE HORRIBLE BAG OF TERRIBLE THINGS, LEI AND THE FIRE GODDESS, and TALES TO KEEP YOU UP AT NIGHT. She also tackles complex design projects, working on epic graphic novels like DANGER AND OTHER UNKNOWN RISKS and Who HQ graphics novels  about Muhammad Ali, Michael Jordan, and Frida Kahlo.
---
Kadeen Griffiths, Metadata Manager 
Random House Publishing Group
In August, Kadeen Griffiths joined Penguin Random House after leaving HarperCollins, where she was marketing associate of operations. While at HC, "she kept the children's department moving and devoted herself to the essential organizational tasks that other people don't care to pay much attention to," says literary agent Emily Forney. She was also a regular contributor to EpicReads, both when it was required of her and when it was not. As a Jamaican woman, Griffiths consciously reads books by marginalized authors and advocates for them.
In her new post at PRH, she works with an analyst to ensure that titles have the right keywords and copy "to catch the eye of the casual online shopper who may not even know they're about to find their next favorite read," Griffiths says. Once an analyst has parsed the data on search trends, Griffiths uses that knowledge to update the information about PRH's titles that goes out to retailer sites.
She describes herself as someone who loves organization, data, and back-end work and thus has found her "dream job." She's particularly pleased to be learning myriad ways to further books' discoverability beyond what a bricks-and-mortar store can do. "Our work may be silent," Griffiths says, "but sometimes it can make a huge difference for authors and readers alike. And I got into publishing for that exact reason: connecting authors with the readers that need them most right when they need them most."
Outside of work, Griffiths uses her own time and platforms to champion BIPOC authors and has cultivated a rich community. "She's a massively respected figure in publishing," Forney says. "So much so that it is nearly impossible to say her name in a space without someone saying, 'Oh I love her.' "
---
Alex Hill, Director, Corporate Communications 
Penguin Random House
When Alex Hill joined Penguin Random House's corporate communications department as an assistant, she had little experience in publishing. Four years later, she is a director. In nominating her, Hill's department credited her talent and skills with "benefiting our entire company, both here in North America and abroad. Alex is admired for remaining steadfast, calm, and uniquely efficient during challenging, time-sensitive projects, while always demonstrating a talent for contributions, collaborations, and innovation."
Hill was part of the team that launched the company's social impact website, which charts its actions on projects like providing books for children of essential workers and giving thanks to healthcare workers. She was also deeply involved in reporting the findings of PRH US's publishing audit of the race and ethnicity of authors, illustrators, and other creators.
During the pandemic, Hill launched several initiatives to allow employees around the globe to stay connected and provide a sense of community. Among them was the Igloo Awards, which provided "colleagues with a moment of cathartic celebration, where they could be applauded for all they did to not only keep us afloat but succeed in the darkest of times," as her team described it. Nominations were made by and for employees in categories such as Best Spirit-Lifter, Making Lemonade, and Best Bookshelf on Webex. Winners were celebrated in a virtual year-end event hosted by PRH US CEO Madeline McIntosh.
---
Hannah Hill, Editor
Delacorte Press
Hannah Hill joined Random House Children's Books's imprint Delacorte Press in 2020, after she had left New York City to escape the worst of the pandemic. Hill continues to work remotely from the Midwest, but that hasn't stopped her from making a strong impression. "She's been an editorial force, with excellent taste and outstanding acquisitions, and has managed to shine over Teams, Zoom, and Webex," says Wendy Loggia, v-p and senior executive editor at Delacorte. "I feel like I've worked with her side by side, although, alas, it's only been on screen."
Hill, who was previously an editor at Disney Publishing Worldwide, edits a range of middle grade and young adult novels by authors in all stages of their careers, including Julie Buxbaum, Namina Forna, Kaitlyn Hill, Yoon Ha Lee, Tehlor Kay Mejia, and Zeba Shahnaz.
Loggia cites Hill's acquisition and editorial management of BLACK BOY JOY, a middle grade anthology edited by Kwame Mbalia, as exemplary of her smarts. The project entailed bringing together 17 Black authors who celebrate the joy of Black boyhood—"just what we're looking for in middle grade," Loggia says. The book debuted at #1 on the New York Times bestseller list, Hill's first hit on that list.
Hill is not the type of editor who waits for manuscripts to appear on her desk. In 2019, she read Gina Chen's short story "Fools" in Foreshadow, "a spirituality literary magazine rooted in the Christian faith," as described on its website. A year and a half later, Hill snagged Chen's debut, Violet Made of Thorns, in a preempt. It was published this summer to great success, was named a Barnes & Noble YA book club pick and an Amazon best book of the month, and landed on many bestseller lists. Loggia credits Hill for its success: "None of this would have happened without Hannah at the helm as Gina's editor," she says.
---
Erin Madison, Marketing Manager, Backlist 
Penguin Publishing Group
When an entry-level publishing job description includes the requirement "must be able to lift a 40-pound box," many disabled workers are shut out—even if, as Erin Madison points out, that requirement is only 5% of the job. Virtual events that don't have captions exclude many disabled people. Madison, who has Stickler syndrome, wants to change this to make publishing more accessible.
Inspired by People of Color in Publishing and Latinx in Publishing, Madison has founded Disability in Publishing to focus on disability and health inclusivity. The mission of the organization, which has grown from only Madison to its current roster of nine members who are expanding the reach to other publishers, is to "create community, provide resources, and increase accessibility across the industry in order to increase disability visibility and retain the talent of disabled publishing professionals," as stated on its website.
Madison, who is marketing manager for the backlist at Penguin Publishing Group, is pleased with how the company has responded, ensuring that Disability in Publishing's launch received media coverage and that disabled people's voices are part of PRH's DEI program.
When she's not growing the industry's inclusivity, Madison is moving the backlist to the forefront. Working across all Penguin imprints, she looks for ways to increase the longevity of titles and mine the backlist for titles that have become especially relevant again. She examines what was done to promote a book previously and looks for ways to do things differently. For some titles, social media didn't exist when they were originally published, so she uses different platforms to bring fresh attention to a title.
After all, Madison says, "you never know what people are into these days."
---
Bria Ragin, Editor 
Joy Revolution/Delacorte
When she was in ninth grade, Bria Ragin told her English teacher that she was going to be an editor. What she didn't know then was that her future boss, Wendy Loggia, v-p, senior executive editor at Random House Children's Group, would call her a total star.
In January 2021, Ragin joined Delacorte as an editor and as an acquiring editor for Joy Revolution, a new imprint in the children's division led by bestselling authors Nicola and David Yoon. The list, which is set to release its first titles in winter 2023, will publish young adult romance novels written by people of color and featuring lead characters of color. Loggia lauds Ragin for "teaming up creatively with the Yoons, connecting with countless agents, reading hundreds of manuscripts, and shaping an incredible debut list."
Joy Revolution kicks off with the release of Talia Hibbert's YA romance debut, HIGHLY SUSPICIOUS AND UNFAIRLY CUTE , "one of the most highly anticipated rom-coms of 2023," according to Loggia. Ragin is a longtime fan of Hibbert's and had a strong sense that she could write for, and be successful in, the YA arena. She proactively went after Hibbert and got the deal done.
Another highlight of Ragin's upcoming list for Joy Revolution is HOUSE PARTY, edited by Justin A. Reynolds. The book brings together 10 well-known authors to deliver interconnected stories that follow a group of teens over the course of a few wild, transformative hours at an epic house party, as the publisher's website describes it. It's one of the first of its kind for the imprint and Ragin's first foray with a collection like this.
Posted: November 1, 2022