Random House Audio Releases Walt Whitman Novel, Narrated by Jon Hamm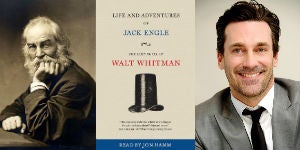 Walt Whitman's newly discovered novel, LIFE AND ADVENTURES OF JACK ENGLE, published prior to LEAVES OF GRASS, is now available for the first time as an audiobook.  Narrated by Jon Hamm, the title was released by Random House Audio on Tuesday (5/30), just in time to celebrate what would have been Whitman's 198th birthday on May 31. 
LIFE AND ADVENTURES OF JACK ENGLE is a rollicking story full of colorful New York characters, originally serialized in the Sunday Dispatch anonymously in 1852. Mr. Hamm's performance of the many salty characters, from Irish street sweeper Barney Fox, to faux-French aristocrat Madame Seligny, conniving Quaker lawyer Covert, and the bootstrapping orphan Jack Engle himself, brings out the wry humor woven throughout the tale.
Mr. Hamm, who previously narrated Frank O'Hara's New York Stories, said of the recording, "I had been a fan of Whitman's work, so it was an easy choice for me. And this is a lost work. It's exciting to read something new by someone who's been dead over 100 years."
Scholar Zachary Turpin of the University of Houston narrates an afterword describing how he followed clues in Whitman's papers leading him to the Library of Congress, whose newspaper archives contained the only known surviving copy of JACK ENGLE. Mr. Turpin consulted on the audio recording, advising on correct historical pronunciations of the characters' names and accents.
Mr. Hamm's nuanced portrayal of the high-powered, advertising executive Don Draper on AMC's award-winning drama series, Mad Men, firmly established him as one of Hollywood's most talented and versatile actors. He has earned numerous accolades, including an Emmy Award in 2015 for Outstanding Actor in a Drama Series, and Golden Globe Awards in 2016 and 2008.
Posted: May 31, 2017