Riverhead to Publish Illustrated Book About the Refugee Crisis by Khaled Hosseini this Fall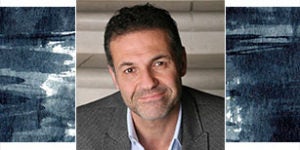 Riverhead Books is proud to announce a new work from the award-winning and internationally-bestselling writer and UNHCR Goodwill Ambassador,Khaled Hosseini as was revealed in Entertainment Weekly.  The new work, titled SEA PRAYER, is a short, illustrated book that Hosseini wrote in response to the current refugee crisis and the haunting image of young Alan Kurdi, the three-year-old Syrian boy whose body washed up on the beach in Turkey in September 2015.
Written in the form of a letter, SEA PRAYER  is a father's reflection as he watches over his sleeping son, on the dangerous journey across the sea that lies before them. It is also an account of their life in Homs, Syria, before the war, and of that city's swift transformation from a home into a deadly war zone. Originally produced in collaboration with UNHCR, the UN Refugee Agency, Sea Prayer was first released as a Guardian virtual film on September 1, 2017.
Khaled Hosseini said: "We are living in the midst of a displacement crisis of enormous proportions. Sea Prayer is an attempt to pay tribute to the millions of families, like Alan Kurdi's, who have been splintered and forced from home by war and persecution."SEA PRAYER will be illustrated by London-based artist Dan Williams, and will be published September 18, 2018, to mark the third anniversary of Kurdi's death.  Riverhead will support publication with a major marketing and publicity campaign. The book will be published simultaneously by Penguin Canada and Bloomsbury in the UK.
Riverhead Editor in Chief and Hosseini's long-time editor, Sarah McGrath, said: "Any new project from Khaled Hosseini is momentous. He is one of the most important writers of our time. But this work is particularly poignant in its heartbreaking engagement with the refugee crisis. I believe this beautifully written, intensely moving story will be cherished by people of all ages, and all over the world."
Posted: February 21, 2018