Support the #WearOrange Movement and National Gun Violence Awareness Day on Friday, 6/1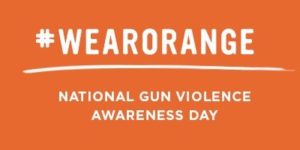 National Gun Violence Awareness Day is on June 1. This year, Penguin Publishing Group has partnered with Everytown for Gun Safety and the #WearOrange movement to recognize the date and to help send a powerful message to end gun violence. 
Other ways to participate include wearing an orange piece of clothing on June 1 or creating your own #WearOrange image for social sharing. Additionally, Penguin Publishing Group and Everytown will be partnering on an in-booth activation at BookCon, at the Javits convention center, from 2:00 to 3:30 p.m. on June 2. Attendees can participate in a dedication wall as well as a #WearOrange photo op.
The #WearOrange movement originated on June 2, 2015 in honor of Hadiya Pendleton, a 15-year-old girl who was shot and killed in Chicago one week after marching in President Obama's 2nd D.C. inaugural parade in January 2013. In the days and weeks following, Hadija's friends commemorated her by wearing orange – the color many hunters wear in the woods to protect themselves and others from harm.
There are several ways to donate to #WearOrange and its partner organizations, who are working hard every day to build a future where every American can live free from gun violence. For a full list, click here.
Posted: May 21, 2018