Susan Kamil and Sophie Kinsella Talk About Creating MY NOT SO PERFECT LIFE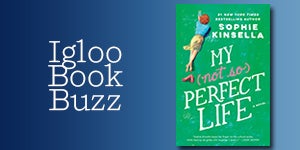 This week's Igloo Book Buzz selection is Sophie Kinsella's MY NOT SO PERFECT LIFE, on sale now from The Dial Press. Part love story, part workplace drama, this sharply observed novel is a witty critique of the false judgments we make in a social-media-obsessed world. At no time in the history of humankind do we know more about "other people's lives," thanks to social media.
Ms. Kinsella opens a window into the writing of her book: "In MY NOT SO PERFECT LIFE, my struggling heroine so desperately wants her life in London to be perfect – as she believes her older female boss's life is – that she creates the online myth that it is. I always write what I see around me and I've seen so many people compare their own lives to other people's 'lives' on Instagram. It's kind of addictive. It was great to write about such a current topic and wonderful to focus on the relationship between two strong females."
Susan Kamil, Executive Vice President, Publisher, Random House and The Dial Press: "I have had the joy of working with Sophie Kinsella for over 15 years and have marveled at how she maintains her perfect pitch for both story and character. Each book is sharply observed, and filled with wit and humor and her heroines are as recognizable as members of my own family. In MY NOT SO PERFECT LIFE, readers will find Kinsella's most relatable heroine yet."
Fellow Penguin Random House author Jojo Moyes commented, "Sophie Kinsella keeps her finger on the cultural pulse, while leaving me giddy with laughter. I loved it."
The "Girls Night Out with Sophie Kinsella" event is happening Tuesday (2/7) from 7:00 to 9:00 pm at one of Barnes & Noble's new Concept Stores at Vernon Hills Shopping Center in Eastchester, NY. This is a Ticketed Event, with a special gift bag (including a signed book). Wine & Appetizers will be served. Sophie's launch event will be Facebook Lived on the B&N Eastchester page as well as shared on the Random House and Sophie Kinsella platforms
Random House partnered with Barnes & Noble to create an innovative book tour experience. The goal is to give fans more of a personal connection with the author than the traditional event. Sophie is the first author to launch this series. For more details, click here.
Posted: February 7, 2017