There's a Book for That: Poem in Your Pocket Day
April 26, 2018 is Poem in Your Pocket Day! Initiated in 2002 in partnership with the New York City Departments of Cultural Affairs and Education, Poem in Your Pocket Day has been adopted by all fifty states. In 2016, the League of Canadian Poets extended Poem in Your Pocket Day to Canada.
As a grassroots part of National Poetry Month, people celebrate by selecting a poem, carrying it with them, and sharing it with others throughout the day at schools, bookstores, libraries, parks, workplaces, and on Twitter using the hashtag #pocketpoem. Find out more ways to celebrate at Poets.org
Everyman's Library Pocket Poet Series editions are ideal collections to read, savor and share. Here are 8 gorgeous volumes, of the more than 100 in the series, edited by some of our most distinguished poets. Spread the word!
THE LANGUAGE OF FLOWERS: POEMS edited by Jane Holloway
Transcending the charm of its Victorian predecessors, this anthology creates an extended, updated, and more robust floral anthology for the twenty-first century, presenting poets through the ages from Sappho, Shakespeare, and Shelley to Ted Hughes, Mary Oliver, and Louise Glück, and across the world from Cuba to Korea, Russia to Zimbabwe. Eastern cultures, rich in flower associations, are well represented: Tang poems celebrating chrysanthemums and peonies, Zen poems about orchids and lotus flowers, poems about jasmine and marigolds from India, and roses and narcissi from Persia, the Ottoman empire, and the Arabic world. The most timeless human emotions and concepts—love, hope, despair, fidelity, grief, beauty, and mortality—find colorful expression in The Language of Flowers.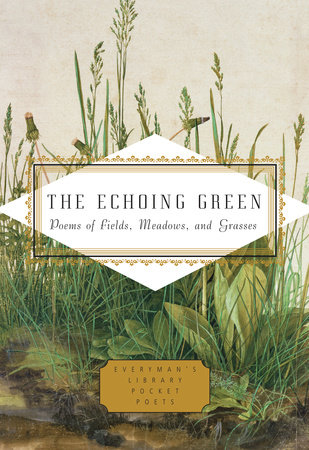 THE ECHOING GREEN: POEMS OF FIELDS, MEADOWS, AND GRASSES edited by Cecily Parks
The rich poetic history of grass spans the centuries, from the pastoral poems of ancient Rome to the fields and prairies of the New World. The rapturous idealizations of William Blake's "echoing green" and William Wordsworth's "splendour in the grass" stand in vivid contrast to the obliterating greenery on human battlefields in war poems such as John McCrae's "In Flanders Fields" and Carl Sandburg's "Grass," or to the work of contemporary poets Lucia Perillo, Harryette Mullen, Denise Levertov, and Gary Soto among them—who reflect on an age of environmental crisis.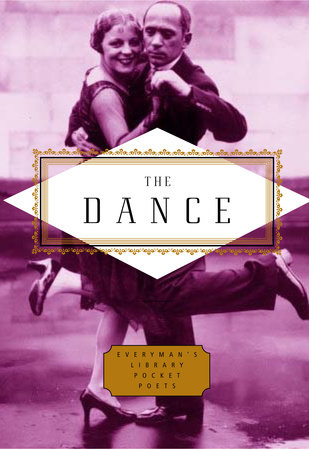 THE DANCE: POEMS edited by Emily Fragos
A celebration in verse of the silent poetry of dance and the dancer, this anthology features a dizzying range of subjects: Chinese dagger dances and Hindu festival dances, belly dancers and whirling dervishes, high school proms and wedding waltzes, tango, tarantella, flamenco, modern dance, reels and jigs, disco, and ballet. Some of the world's most famous choreographers and dancers move through the poems gathered here: from Nijinsky and Pavlova to Gene Kelly and Fred Astaire, from Isadora Duncan to George Balanchine and Martha Graham, from Bojangles to Baryshnikov. The work of more than 150 poets—including Shakespeare, Milton, Hafiz, Rumi, Li Po, Rilke, Rimbaud, Lorca, Akhmatova, Whitman, Dickinson, Cummings, Eliot, and Merrill—reflects the grace, the drama, the expressive power, and the sheer joy to be found in dance around the world and through the ages.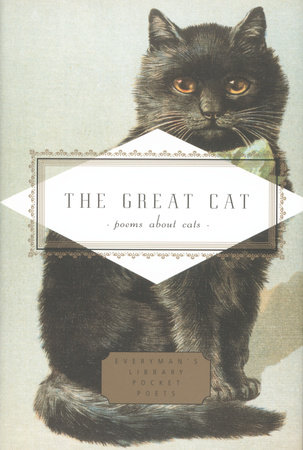 THE GREAT CAT: POEMS ABOUT CATS edited by Emily Fragos
The feline has inspired poetic adoration since the days of the pharaohs, and the poems collected here cover an astonishing range of periods, cultures, and styles. Poets across the continents and centuries have described the feline family–from kittens to old toms, pussycats to panthers–doing what they do best: sleeping, prowling, prancing, purring, sleeping some more, and gazing disdainfully at lesser beings like ourselves. Here are Yeats's Minnaloushe, Christopher Smart's Jeoffry, Lewis Carroll's Cheshire Cat, T. S. Eliot's Rum Tum Tugger, William Blake's tyger and Rilke's panther. Here are tributes from Sufi mystics, medieval Chinese poets, and haiku masters of imperial Japan, from Chaucer, Shelley, Borges, Neruda, Dickinson, and Shakespeare. Here are the cats of Mother Goose, and the one who wore the hat for Dr. Seuss.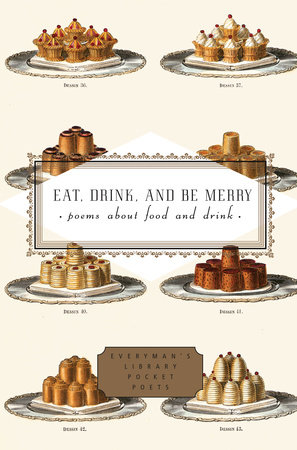 EAT, DRINK, AND BE MERRY: POEMS ABOUT FOOD AND DRINK edited by Peter Washington
All kinds of foods and beverages are laid out in these pages, along with picnics and banquets, intimate suppers and quiet dinners, noisy parties and public celebrations–in poems by Horace, Catullus, Hafiz, Rumi, Rilke, Moore, Nabokov, Updike, Mandelstam, Stevens, and many others. From Sylvia Plath's ecstatic vision of juice-laden berries in "Blackberrying" to D. H. Lawrence's lush celebration of "Figs," from the civilized comfort of Noël Coward's "Something on a Tray" to the salacious provocation of Swift's "Oysters," from Li Po on "Drinking Alone" to Baudelaire on "The Soul of the Wine," and from Emily Dickinson's "Forbidden Fruit" to Elizabeth Bishop's "A Miracle for Breakfast," Eat, Drink, and Be Merry serves up a tantalizing and variegated literary feast.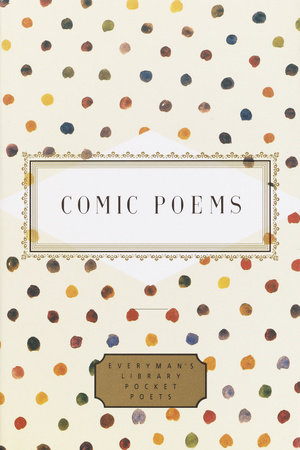 COMIC POEMS edited by Peter Washington
This treasury of humorous poems brings together a sparkling constellation of witty poets–from Lord Rochester to Lewis Carroll, from Edward Lear to Ogden Nash, from Dorothy Parker to W. H. Auden–and embraces a wide range of forms, including limericks, clerihews, ballads, sonnets, and nonsense verse.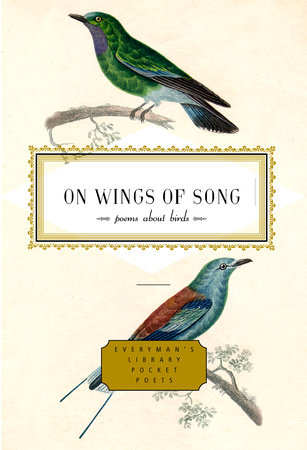 ON WINGS OF SONG: POEMS ABOUT BIRDS edited by J. D. McClatchy
From backyard to barnyard, from hawks to hummingbirds, from pelicans to peacocks, from Coleridge's albatross to Keats's nightingale to Poe's raven-all manner of feathered beings, the inspiration for poetic flights of fancy through the ages, are gathered together in this delightful volume. Some other winged treasures: Emily Dickinson on the jay; Gertrude Stein on pigeons; Seamus Heaney on turkeys; Tennyson on the eagle; Spenser on the merry cuckoo; Amy Clampitt on the whippoorwill; Po Chü-i on cranes; John Updike on seagulls; W.S. Merwin on the duck; Elizabeth Bishop on the sandpiper; Rilke on flamingoes; Margaret Atwood on vultures; the Bible on the ostrich; Sylvia Plath on the owl; Melville on the hawk; Yeats on wild swans; Virgil on the harpies; Thomas Hardy on the darkling thrush; and Wallace Stevens on thirteen ways of looking at a blackbird.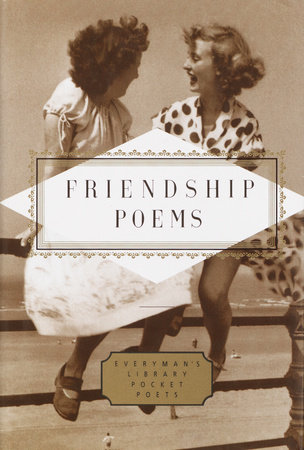 FRIENDSHIP POEMS edited by Peter Washington
A celebration of friendship in all its aspects–from the delight of making a new friend to the serene joys of longtime devotion. Poems about best friends, false friends, dear friends, lost friends, even animal friends. These poems have been selected from the work of great poets in all times and places, including Emily Dickinson, W.H. Auden, Henry Thoreau, Shakespeare, Sappho, Robert Frost, Rudyard Kipling, Walt Whitman, and many others.
For more on these and other titles in Everyman's Library Pocket Poet Series visit Pocket Poets
---
There's a Book for That! is brought to you by Penguin Random House's Sales department. Please follow our Tumblr by clicking here—and share this link with your accounts: theresabookforthat.tumblr.com. Thank you!
Did you see something on the news or read about something on your commute? Perhaps you noticed something trending on Twitter? Did you think: "There's a book for that!"? Then please, send it our way at theresabookforthat@penguinrandomhouse.com
Posted: April 25, 2018