everyman's library
April 25, 2018
April 26, 2018 is Poem in Your Pocket Day! Initiated in 2002 in partnership with the New York City Departments of Cultural Affairs and Education, Poem in Your Pocket Day has been adopted by all fifty states. In 2016, the League of Canadian Poets extended Poem in Your Pocket Day to Canada.
As a grassroots part of National Poetry Month, people celebrate by selecting a poem, carrying it with them, and sharing it with others throughout the day at schools, bookstores, libraries, parks, workplaces, and on Twitter using the hashtag #pocketpoem. Find out more ways to celebrate at Poets.org
Everyman's Library Pocket Poet Series editions are ideal collections to read, savor and share. Here are 8 gorgeous volumes, of the more than 100 in the series, edited by some of our most distinguished poets. Spread the word!
expand
THE LANGUAGE OF FLOWERS: POEMS
edited by Jane Holloway
Transcending the charm of its Victorian predecessors, this anthology creates an extended, updated, and more robust floral anthology for the twenty-first century, presenting poets through the ages from Sappho, Shakespeare, and Shelley to Ted Hughes, Mary Oliver, and Louise Glück, and across the world from Cuba to Korea, Russia to Zimbabwe. Eastern cultures, rich in flower associations, are well represented: Tang poems celebrating chrysanthemums and peonies, Zen poems about orchids and lotus flowers, poems about jasmine and marigolds from India, and roses and narcissi from Persia, the Ottoman empire, and the Arabic world. The most timeless human emotions and concepts—love, hope, despair, fidelity, grief, beauty, and mortality—find colorful expression in
The Language of Flowers
.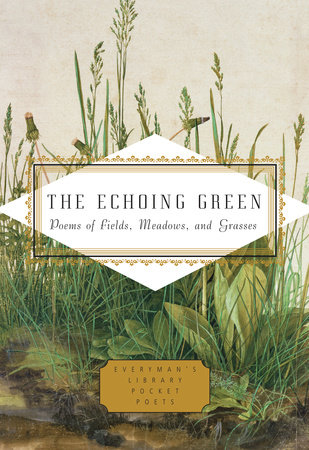 THE ECHOING GREEN: POEMS OF FIELDS, MEADOWS, AND GRASSES
edited by Cecily Parks
The rich poetic history of grass spans the centuries, from the pastoral poems of ancient Rome to the fields and prairies of the New World. The rapturous idealizations of William Blake's "echoing green" and William Wordsworth's "splendour in the grass" stand in vivid contrast to the obliterating greenery on human battlefields in war poems such as John McCrae's "In Flanders Fields" and Carl Sandburg's "Grass," or to the work of contemporary poets Lucia Perillo, Harryette Mullen, Denise Levertov, and Gary Soto among them—who reflect on an age of environmental crisis.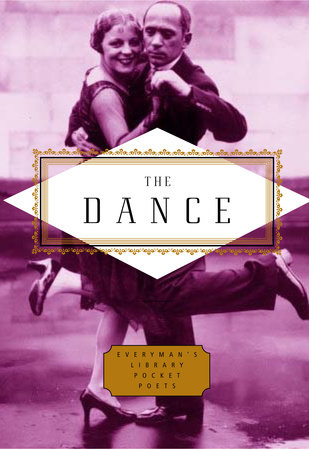 THE DANCE: POEMS
edited by Emily Fragos
A celebration in verse of the silent poetry of dance and the dancer, this anthology features a dizzying range of subjects: Chinese dagger dances and Hindu festival dances, belly dancers and whirling dervishes, high school proms and wedding waltzes, tango, tarantella, flamenco, modern dance, reels and jigs, disco, and ballet. Some of the world's most famous choreographers and dancers move through the poems gathered here: from Nijinsky and Pavlova to Gene Kelly and Fred Astaire, from Isadora Duncan to George Balanchine and Martha Graham, from Bojangles to Baryshnikov. The work of more than 150 poets—including Shakespeare, Milton, Hafiz, Rumi, Li Po, Rilke, Rimbaud, Lorca, Akhmatova, Whitman, Dickinson, Cummings, Eliot, and Merrill—reflects the grace, the drama, the expressive power, and the sheer joy to be found in dance around the world and through the ages.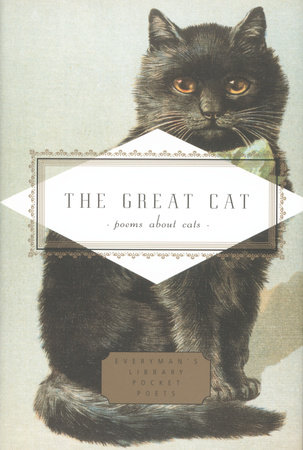 THE GREAT CAT: POEMS ABOUT CATS
edited by Emily Fragos
The feline has inspired poetic adoration since the days of the pharaohs, and the poems collected here cover an astonishing range of periods, cultures, and styles. Poets across the continents and centuries have described the feline family–from kittens to old toms, pussycats to panthers–doing what they do best: sleeping, prowling, prancing, purring, sleeping some more, and gazing disdainfully at lesser beings like ourselves. Here are Yeats's Minnaloushe, Christopher Smart's Jeoffry, Lewis Carroll's Cheshire Cat, T. S. Eliot's Rum Tum Tugger, William Blake's tyger and Rilke's panther. Here are tributes from Sufi mystics, medieval Chinese poets, and haiku masters of imperial Japan, from Chaucer, Shelley, Borges, Neruda, Dickinson, and Shakespeare. Here are the cats of Mother Goose, and the one who wore the hat for Dr. Seuss.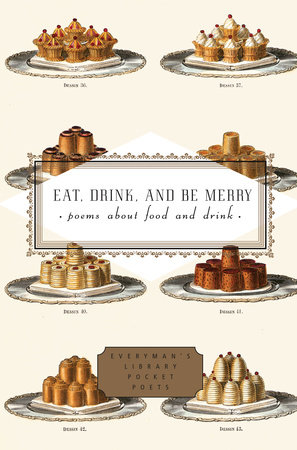 EAT, DRINK, AND BE MERRY: POEMS ABOUT FOOD AND DRINK
edited by Peter Washington
All kinds of foods and beverages are laid out in these pages, along with picnics and banquets, intimate suppers and quiet dinners, noisy parties and public celebrations–in poems by Horace, Catullus, Hafiz, Rumi, Rilke, Moore, Nabokov, Updike, Mandelstam, Stevens, and many others. From Sylvia Plath's ecstatic vision of juice-laden berries in "Blackberrying" to D. H. Lawrence's lush celebration of "Figs," from the civilized comfort of Noël Coward's "Something on a Tray" to the salacious provocation of Swift's "Oysters," from Li Po on "Drinking Alone" to Baudelaire on "The Soul of the Wine," and from Emily Dickinson's "Forbidden Fruit" to Elizabeth Bishop's "A Miracle for Breakfast," Eat, Drink, and Be Merry serves up a tantalizing and variegated literary feast.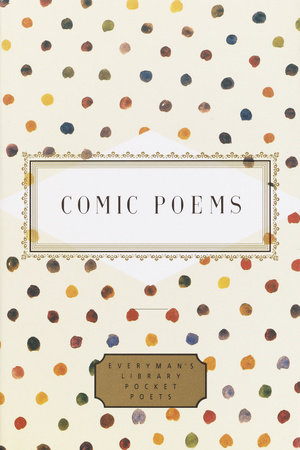 COMIC POEMS
edited by Peter Washington
This treasury of humorous poems brings together a sparkling constellation of witty poets–from Lord Rochester to Lewis Carroll, from Edward Lear to Ogden Nash, from Dorothy Parker to W. H. Auden–and embraces a wide range of forms, including limericks, clerihews, ballads, sonnets, and nonsense verse.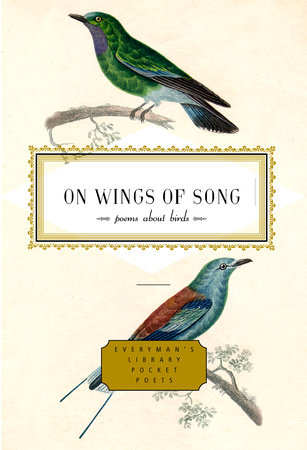 ON WINGS OF SONG: POEMS ABOUT BIRDS
edited by J. D. McClatchy
From backyard to barnyard, from hawks to hummingbirds, from pelicans to peacocks, from Coleridge's albatross to Keats's nightingale to Poe's raven-all manner of feathered beings, the inspiration for poetic flights of fancy through the ages, are gathered together in this delightful volume. Some other winged treasures: Emily Dickinson on the jay; Gertrude Stein on pigeons; Seamus Heaney on turkeys; Tennyson on the eagle; Spenser on the merry cuckoo; Amy Clampitt on the whippoorwill; Po Chü-i on cranes; John Updike on seagulls; W.S. Merwin on the duck; Elizabeth Bishop on the sandpiper; Rilke on flamingoes; Margaret Atwood on vultures; the Bible on the ostrich; Sylvia Plath on the owl; Melville on the hawk; Yeats on wild swans; Virgil on the harpies; Thomas Hardy on the darkling thrush; and Wallace Stevens on thirteen ways of looking at a blackbird.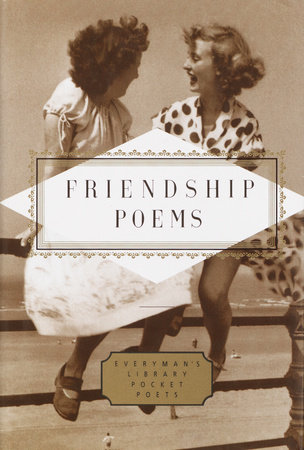 FRIENDSHIP POEMS
edited by Peter Washington
A celebration of friendship in all its aspects--from the delight of making a new friend to the serene joys of longtime devotion. Poems about best friends, false friends, dear friends, lost friends, even animal friends. These poems have been selected from the work of great poets in all times and places, including Emily Dickinson, W.H. Auden, Henry Thoreau, Shakespeare, Sappho, Robert Frost, Rudyard Kipling, Walt Whitman, and many others. For more on these and other titles in Everyman's Library Pocket Poet Series visit
Pocket Poets
---
There's a Book for That!
is brought to you by Penguin Random House's Sales department. Please follow our Tumblr by clicking
here
—and share this link with your accounts:
theresabookforthat.tumblr.com
. Thank you! Did you see something on the news or read about something on your commute? Perhaps you noticed something trending on Twitter? Did you think: "There's a book for that!"? Then please, send it our way at
theresabookforthat@penguinrandomhouse.com
April 26, 2017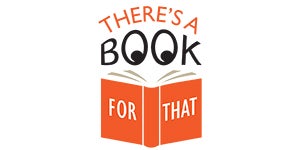 April 27th, 2017 is Poem in Your Pocket Day! Initiated in 2002 in partnership with the New York City Departments of Cultural Affairs and Education, Poem in Your Pocket Day has been adopted by all fifty states. In 2016, the League of Canadian Poets extended Poem in Your Pocket Day  to Canada.
expand
As a grassroots part of National Poetry Month, people celebrate by selecting a poem, carrying it with them, and sharing it with others throughout the day at schools, bookstores, libraries, parks, workplaces, and on Twitter using the hashtag #pocketpoem. Find out more ways to celebrate at 
Poets.org
Everyman's Library Pocket Poets
 editions are ideal for filling your head, heart and pocket with poems to savor and share. Here are 10 gorgeous volumes, of the nearly 100 in the series, edited by some of our most distinguished poets. Viva Poetry!
FEATURED TITLES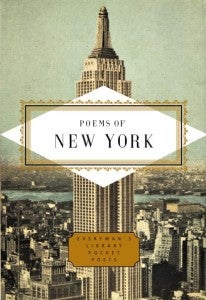 POEMS OF NEW YORK edited by Elizabeth Schmidt
All the icons of this greatest of cities swirl and flash through these pages: taxis and subways, bridges and skyscrapers, ghettos and roof gardens and fire escapes, from the South Bronx to Coney Island to Broadway to Central Park, and from Langston Hughes's Harlem to James Merrill's Upper East Side. Wallace Stevens, e. e. cummings, W. H. Auden, Dorothy Parker, Elizabeth Bishop, Allen Ginsberg, and Audre Lorde are just a few of the poets gathered here, alongside a host of new young voices.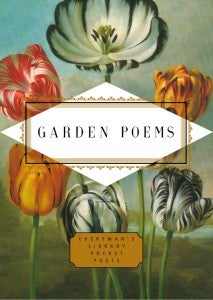 GARDEN POEMS edited by John Hollander
The splendid poems in this collection both represent and glorify the cultivating instinct, and each of them succeeds in "annihilating all that's made," as Andrew Marvell puts it in one of the most famous of all English poems, "to a green thought in a green shade." Contents include poems on Paradises, Gardens of Love, Gardens in the Mind, Gardens and Seasons, Flowers, Gardeners, The Work of the Garden, Gardens of the Wild, City Gardens, Public Gardens, Ruined Gardens, and A Garden of Gardens. Contributors include John Milton, Ovid, E.E. Cummings, Thom Gunn, John Donne, James Merrill, Wallace Stevens, Robert Browning, Shakespeare, and many others.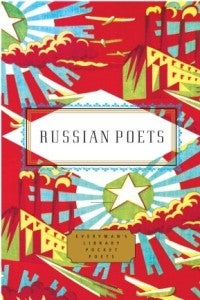 RUSSIAN POETS edited by Peter Washington
This volume gathers together some of the best-loved, most powerful and immediate poems from the greatest Russian poets of the nineteenth and twentieth centuries. Here is the work of Alexander Pushkin, Mikhail Lermontov, Andrei Bely, Vladimir Mayakovsky, Ivan Bunin, Osip Mandelstam, Anna Akhmatova, Marina Tsvetaeva, Boris Pasternak, and Joseph Brodsky, among many others.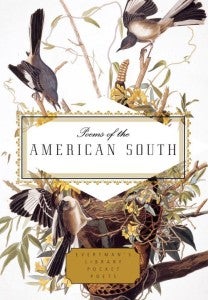 POEMS OF THE AMERICAN SOUTH edited by David Biespiel
Poems of the American South
 includes poems both by Southerners and by famous observers of the South who hailed from elsewhere. These range from Walt Whitman, Edgar Allan Poe through Langston Hughes, Wallace Stevens, Elizabeth Bishop, James Dickey and include a host of living poets as well: Wendell Berry, Rita Dove, Sandra Cisneros, Yusef Komunyakaa, Naomi Shihab Nye, C. D. Wright, Natasha Trethewey, and many more.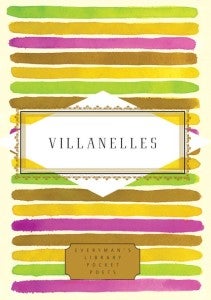 VILLANELLES edited by Annie Finch and Marie-Elizabeth MalAnnie Finch, Marie-Elizabeth Mali
The first of its kind–a comprehensive collection of the best of the villanelle, a delightful poetic form whose popularity ranks only behind that of the sonnet and the haiku. With its intricate rhyme scheme and dance-like pattern of repeating lines, its marriage of recurrence and surprise, the villanelle is a form that has fascinated poets since its introduction almost two centuries ago and is enjoying a revival with contemporary poets.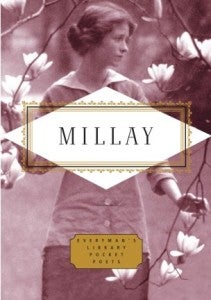 MILLAY: POEMS by Edna St. Vincent Millay; edited by Diana Secker Tesdell
One of America's most beloved poets, Edna St. Vincent Millay burst onto the literary scene at a very young age and won the Pulitzer Prize for Poetry in 1923. Her passionate lyrics and superbly crafted sonnets have thrilled generations of readers long after the notoriously bohemian lifestyle she led in Greenwich Village in the 1920s ceased to shock them. Millay's refreshing frankness and cynicism and her ardent appetite for life still burn brightly on the page more than half a century after her death.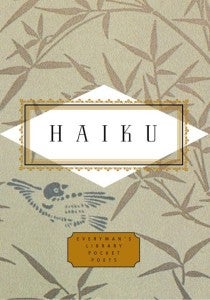 HAIKU edited by Peter Washington
Simple yet capable of great complexity, the haiku is a tightly structured verse form that has a remarkable power to distill the essence of a moment keenly perceived. For centuries confined to a small literary elite in Japan, the writing of haiku is now practiced all over the world by those who are fascinated by its combination of technical challenge, expressive means, and extreme concentration. This anthology brings together hundreds of haiku by the Japanese masters–Basho, Issa, Buson, Shiki–with superb examples from nineteenth- and twentieth-century writers.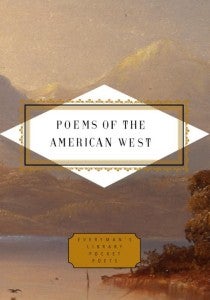 POEMS OF THE AMERICAN WEST edited by Robert Mezey
Here is the West in all its rich variety–the harsh life of farms and ranches; man's destructive invasion into forest and desert solitudes; the bars and bistros of San Francisco and Hollywood; Pacific surf and endless highways; the ghost towns, the poverty, and the legendary world of cowpunchers and gunslingers. From Robert Frost's "Once by the Pacific" to Charles Bukowski's "Vegas," from Fred Koller's "Lone Star State of Mind" to Thom Gunn's "San Francisco Streets"–the West is evoked in all its incarnations, both actual and mythic.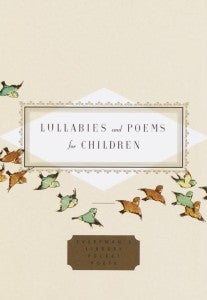 LULLABIES AND POEMS FOR CHILDREN edited by Diana Secker Larson Diana Secker Larson
In this enchanting and comprehensive collection are beautiful lyrics to sing or read to little ones, from Shakespeare's lullaby for the fairy queen, Titania, to Brahms's "Lullaby"; and from Gershwin's "Summertime" to Langston Hughes's lovely lullaby for a "night black baby." Here, too, are poems for children that range from tender to nonsensical, from quiet to raucous–from T. S. Eliot to Lewis Carroll and Edward Lear.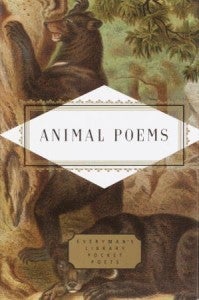 ANIMAL POEMS edited by John Hollander
From East to West, from ancient times to modern, from Mei Yu Ch'en on swarming mosquitoes to William Cullen Bryant's solitary waterfowl and Rainer Maria Rilke's enchanted gazelle, from Auden on cats and dogs to E.E. Cummings's verse in the shape of a grasshopper to James Merrill's vision of the octopus, here—selected by John Hollander—are 136 poems that provide exhilarating access to literature's glorious lyric zoo. For more on these and other titles in Everyman's Library Pocket Poets Series visit 
Pocket Poets