Unbound Worlds Debuts Cage Match 2017: Sci-Fi vs. Fantasy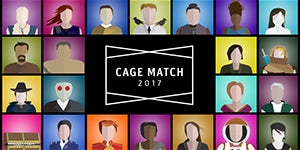 Unbound Worlds, Penguin Random House's online destination dedicated to the literary worlds of science fiction and fantasy, today announces the start of Cage Match 2017: Sci-Fi vs. Fantasy. The annual character-bracket tournament formerly known as Suvudu Cage Match is back for a seventh year (and eighth tournament), making its debut on Unbound Worlds with a new theme, look, and interactive features.
Cage Match 2017 will feature 32 iconic characters from sci-fi and fantasy literature in five rounds of fictional battles to the death, which will result in one triumphant champion. Participating authors include Chuck Wendig, Seanan McGuire, C.A. Higgins, and others who have been invited to create original fiction that pits the characters against each other. At the end of each match, fans vote for one character that will advance to the next round. The results of those polls drive the next round of matches.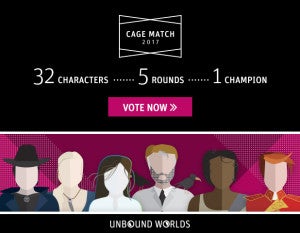 Cage Match has become a highly anticipated event in the science fiction and fantasy community, garnering millions of visits since its inception in 2010.  To celebrate the debut of Cage Match on Unbound Worlds, the site is giving away the full library of books featuring all 32 Cage Match characters.  Cage Match 2017 also presents fans with a rare treat from five authors who are writing Round One matches for their own characters. This includes:
Cage Match on Unbound Worlds boasts a new design that for the first time includes an interactive bracket, author bios, in-match links to purchase featured books from numerous retailers, and the ability to see a character's previous victories. Readers can now also sign up for Cage Match email updates to stay up-to-date on which characters are in the lead.
Emily Hughes, Unbound Worlds editor and Cage Match puppetmistress says, "Cage Match is back and better than ever on Unbound Worlds with a great new design and interactive features. Whether your taste runs to the fantastic, the magical, or the out-of-this-world, our mix of classic and new characters and our stellar lineup of participating authors provides something for everyone. We look forward to fans coming together as they vote for their favorite characters and share their knowledge in the comments section."
Posted: March 7, 2017