blog from markus
January 17, 2018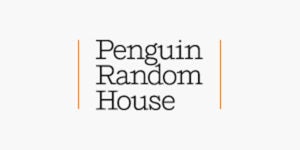 Dear Penguin Random House Colleagues,
Happy New Year. I'd like to start 2018 with a big thank you for all your efforts and contributions to another solidly profitable year for Penguin Random House in 2017.
expand
Driving our success once again were the hundreds of bestsellers that we have published locally and internationally these past twelve months. And the strength of our unparalleled content treasure. What's more is that many of our bestselling books are continuing their strong sales into this year.  
The social and cultural impact of our authors and books in 2017 has been a source of great pride for us. Measured in critical acclaim, last year was probably our best ever: Kazuo Ishiguro received the Nobel Prize for Literature. George Saunders' LINCOLN IN THE BARDO won the Man Booker Prize and David Grossman's A HORSE WALKS INTO A BAR was the winner of the Man Booker International Prize. Four of the five Pulitzer Prize winners in the Letters category were published by Penguin Random House imprints. Masha Gessen won the U.S. National Book Award in Nonfiction for THE FUTURE IS HISTORY.  In Canada, Michael Redhill was honored with the Giller Prize for BELLEVUE SQUARE. Penguin Random House Grupo Editorial author Sergio Ramírez won the coveted Spanish-language Cervantes Prize. And our authors won numerous additional local honors and awards. Here's a look at those and other ways we made a social and cultural impact in 2017:
https://www.youtube.com/watch?v=OlQvvaE8qdg&feature=youtu.be
 Click here to tweet the video.
In 2018, reader centricity and an online-first mindset remain the most important strategic initiatives for our company—complemented and completed by the continuous improvement of our supply chain and service efficiencies for our customers around the world. The new year is off to a good start. We already acquired Rodale Books, a leading North American wellness and lifestyle adult and children's publisher, which immediately grows our portfolio and expands our market share and reach in these important categories.
And we have a lot more in store for 2018 besides brilliant content, stories, and publishing. Further enhancements to our industry-leading U.S. supply chain with an almost-completed new Westminster building. Our transformative distribution and technology modernizations in the UK and Australia. Our ongoing companywide growth with audio, client-publisher services, and international sales. As Penguin Random House, we have the benefit of being able to share our skills, knowledge, and learning on projects large and small, and then adapting them across our businesses worldwide, enabling us to scale our expertise and creativity as we work together—across borders and in service to our authors, booksellers, and readers.
Finally, as we look ahead, it almost goes without saying—but cannot be said enough—that as book publishers, we stand for diverse voices, opinions, stories, and ideas. That diversity, especially the freedom of speech and the freedom of our press and media, is now under the most intense and unrelenting pressure that we have seen in our lifetimes. I've always said that as a global market leader in consumer book publishing, Penguin Random House has huge opportunities—and responsibilities. Fighting for the freedom to write and the freedom of speech are two of our essential responsibilities. Our commitment to free speech and human rights—and to ensuring an open and supportive work environment for all of us in each of our companies—must be, and will be, an unwavering priority for 2018 and beyond, one that demands participation from all of us.
Can you believe it's been almost five years for us as Penguin Random House? We will celebrate our anniversary on July 1. Together, let's make it the most memorable milestone year.
Yours,

December 18, 2017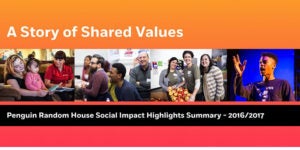 Dear Colleagues,
As 2017 comes to a close, I have been reflecting on our role and responsibility as publishers. In today's divided world, books matter more than ever. Books, we know, have the power to connect and transform us. As a global community of book lovers, we are passionate about making a positive difference in the world. And I believe we do: with our publishing and through our corporate citizenship. Both drive the social impact we have as Penguin Random House. Today, I am pleased to be writing to share our first-ever Social Impact Highlights Summary, which showcases how our company operates responsibly and complements our publishing efforts by going beyond the day-to-day activities of the business to give back to our communities, both locally and globally, across our territories.
expand
One of my strongest convictions is that our social responsibility efforts are essential to who we are and what we do as Penguin Random House. From championing freedom of expression and creativity, to promoting diversity and inclusion, to reducing our carbon footprint, we have set forth a number of 2020 Commitments that we are working hard to achieve through in-house initiatives and programs and through our partnerships with local and global nonprofit organizations. You'll see some of these featured in our Highlights Summary. This good work, coupled with the brilliant books we publish every day, has ensured our meaningful and positive social impact in the world. Thank you for connecting our books with readers who learn from them, escape with them, and cherish them like we do. And thank you for embracing our collective responsibility to defend free speech, lift up marginalized voices, protect our earth, and help those in need. I am very proud of what we have accomplished together thus far, and am excited about our potential to do even more in 2018. I wish you a peaceful, relaxing, and enjoyable year-end break with your friends and family. Happy Reading,