grammy
January 27, 2020
Former First Lady Michelle Obama's recording of her multi-million-copy #1 bestselling memoir BECOMING has won the 2020 Best Spoken Word Album GRAMMY Award®.  Read in its entirety by its author, her audiobook, published in November 2018 by Penguin Random House Audio simultaneously with its Crown print and e-book editions, has spent fourteen consecutive months on the New York Times Audio Bestseller List—seven at #1.  The 19-hour recording is produced by PRH Audio's Senior Vice President, Content Production—and multi- GRAMMY Award® winner and nominee–Dan Zitt.  Zitt also is a producer of this year's Penguin Random House Audio GRAMMY® finalist BEASTIE BOYS BOOK.
This GRAMMY®  is also a triumph for Penguin Random House Audio, whose imprints' productions have been awarded the Best Spoken Word Album GRAMMY® three times in the last four years.
expand
Mrs. Obama says of her GRAMMY® win, "Thank you to the Recording Academy for this honor! I had plenty of doubts about sharing so much of myself in Becoming, but this moment is another reminder that when we own the truth of who we are, we give ourselves the chance to connect with others in real, meaningful ways." Voted by the membership of The Recording Academy®, the GRAMMY® for BECOMING was announced yesterday (January 26) afternoon in Los Angeles during the GRAMMY Awards Premiere Ceremony®, before the nationally televised GRAMMY® broadcast. Mrs. Obama's previous Crown book, the #1 bestselling AMERICAN GROWN: The Story of the White House Kitchen Garden and Gardens Across America, was nominated in 2013 for Best Spoken Word album. PRH Audio's most recent Grammy Spoken Word Album winners: Carrie Fisher's THE PRINCESS DIARIST (2018)  and Carol Burnett's IN SUCH GOOD COMPANY (2017). In all, Penguin Audios and Random House Audios have been nominated in this category 45 times, and have won the prize 16 of them. Our Audio colleagues, several of whom attended the afternoon event, are deservedly thrilled about The Recording Academy® recognition for BECOMING.  Congratulations to Dan Zitt, Amanda D'Acierno, and the accomplished Group she leads.  And, of course, the biggest congratulations to our narrator and author, Michelle Obama.
November 28, 2017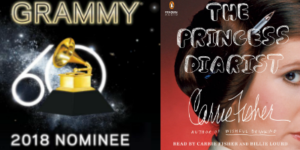 Carrie Fisher's THE PRINCESS DIARIST is nominated for a Best Spoken Word Album GRAMMY® Award.  Read by its author, along with her daughter Billie Lourd, the Penguin Random House Audio release is one of five finalists in this category announced this morning.
expand
The Penguin Audio was produced by our multi-GRAMMY® nominated Audio colleague 
Dan Zitt
.  It is also available in Blue Rider Press print and e-book editions. Congratulations to all. Penguin Random House Audio titles have previously received 14 GRAMMY® Awards, including last year's Best Spoken Word Album winner, Carol Burnett's
In Such Good Company
, and 42 additional GRAMMY® nominations. Fingers crossed for us at the 60th Annual GRAMMY® Awards, which will be presented Sunday, January 28, 2018, at Madison Square Garden.