jo nesbo
April 12, 2018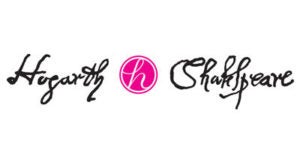 The newest novel in the Hogarth Shakespeare Series is Jo Nesbø's MACBETH, published on April 10. Set in the 1970s in a run-down, rainy industrial town, this gripping transformative take on one of Shakespeare's bloodiest plays centers around a police force struggling to shed an incessant drug problem. Creating an engrossing story of love and guilt, political ambition, and greed for more, Nesbø explores the darkest corners of human nature, and the aspirations of the criminal mind.
In this "Three Questions for an Editor" interview, Alexis Washam, Executive Editor, Crown Publishers and Hogarth, offers insights into the Hogarth Shakespeare Series, the process of working with Nesbø on this project, and how readers may embrace the remarkable novel that was created. Read on.
expand
What was involved in the process of having Jo Nesbø retell MACBETH as part of the Hogarth Shakespeare Series?
When we first conceived of the Hogarth Shakespeare series, my colleagues here and in the UK agreed that we wanted to give the participating authors as much latitude as possible on this project. When we approached Jo, we asked him which Shakespeare play he would be most excited about retelling, and when he came back with MACBETH, we were both thrilled and not entirely surprised. It is, after all, one of the Bard's bloodiest. Once we matched the author with the play, there was very little directive – basically, "write a novel!" - and I've been amazed to see how each book has come back with its author's own unique take on his or her play. Nesbø is no different – he took a timeless tale of ambition and madness and set it in a police department in an atmospheric port town, and the result is a page-turning thriller that stands up to the best of them.
How would you describe working with the author as his editor as this book came to be?
[caption id="attachment_110713" align="alignright" width="197"]
Alexis Washam[/caption] It's been a true honor to work with all of the authors on our Hogarth Shakespeare list, and each of them has been incredibly open and gracious about the editorial process. All of the books in the series are published in collaboration with my colleagues at Hogarth UK, so in the case of MACBETH, Jo delivered his manuscript, fully finished and translated by Don Bartlett, to myself and the UK editor at the same time. We both read it at once (it was exciting to be one of the first to read a new Nesbø novel!), and then sent along our editorial notes to Jo and his agent. There was not very much that needed changing, as you can imagine. But he took our thoughts into consideration, and we did a small bit of work on the opening chapter in particular. Since the setting and the cast of characters would be new to Nesbø fans, we wanted to make sure we got the first pages exactly right, so they'd be instantly drawn in. We also had a conversation about the title: MACBETH is the only book in our series that shares its title with the play. At first, we weren't sure about this exception, but after reading the manuscript it made sense. Since Jo had kept the names of the characters (he's the only one who has done so, at least to this extent), we decided to stick with it. And it looks fantastic on a book cover!
What elements of Nesbø's MACBETH do you think will resonate with longtime fans of his Harry Hole novels as well as readers – particularly Shakespeare devotees – who may be coming to his fiction for the first time?
Jo Nesbø's novels are not just pulse-racing thrillers; his work has always explored the darkness and evil that is present in any seemingly functional society, and the chaos and infighting that serves as the backdrop to his MACBETH should be familiar to any fan of the play. Also, of course neither the play nor Nesbø's work are strangers to violence – man's worst impulses often result in murder and violent crime, and the Harry Hole novels and this new book make those acts of violence central to their plots. However, neither Nesbø nor Shakespeare was interested in bloodshed for its own sake; both in the original play and the novel, the character Macbeth's deepest psychological demons and personal failings make for a compelling tale of a tragic fallen man.
September 21, 2017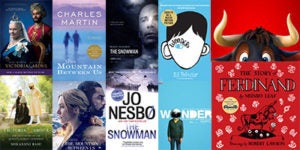 Several motion pictures based on our books are debuting on theater screens across North America this fall, beginning this weekend and continuing into the pre-holiday season.  Our hope is that the old adage – "see the movie, read the book" – will continue to prevail among filmgoers.   Read on, and watch the trailers. 
expand
September 22:  
"
Victoria & Abdul"
The extraordinary friendship between an elderly, ailing Queen Victoria and her young Indian companion, Abdul Karim, is chronicled in
Shrabani Basu's
book,
VICTORIA & ABDUL: The True Story of the Queen's Closest Confidant
(Vintage). Lonely in the wake of the deaths of her beloved Prince Albert and John Brown, and increasingly isolated from the cocooning royal entourage, Victoria and Abdul formed a platonic bond, and to the dismay of her staff and son Bertie he became an empowered figure in her court and a friend close to her heart.  In the film, directed by Stephen Frears, Dame Judith Dench portrays
Queen Victoria and Ali Fazal plays Abdul Karim.  Michael Gambon and Eddie Izzard are also part of the cast.
Watch the trailer:
October 6:
"The Mountain Between Us"
Charles Martin's
THE MOUNTAIN BETWEEN US
(Broadway) is a life-affirming tale of love and survival.  Following a plane crash, a pair of strangers – one a doctor, the other a writer – are stranded in the remote wilderness of Utah. With winter closing in, no food or water, and only meager supplies, the pair is forced to rely on one another.  As the days in the mountains become weeks, their mutual survival becomes increasingly perilous.  The film, starring Kate Winslet and Idris Elba, was directed by Hany Abu-Assad and written by Chris Weitz and J. Mills Goodloe, based on Martin's book.
Watch the trailer: 
October 20:
"The Snowman"
Jo Nesbo's
THE SNOWMAN
(Vintage), the eighth Harry Hole novel, revolves around a bizarre missing-person's investigation that sets Hole on the trail of an elusive and brutal serial killer. One night, after the first snowfall of the year, a boy wakes up and discovers that his mother has disappeared. Only one trace of her remains: a pink scarf, his Christmas gift to her, now worn by the snowman that inexplicably appeared in their yard earlier that day.  Inspector Hole suspects a link between the missing woman and a suspicious letter he has received. The case deepens when a pattern emerges: over the past decade, eleven women have vanished—all on the day of the first snow.  In the film, directed by Tomas Alfredson and written by Hossein Amini and Peter Straughan, based on Nesbo's novel, Michael Fassbender plays Hole, with the cast also including Rebecca Ferguson, Val Kilmer, Chloe Sevigny, Charlotte Gainsbourg, and J. K. Simmons.
Watch the trailer:
November 17: 
"Wonder"
R. J. Palacio's
WONDER
(Knopf Books for Young Readers), a multi-year #1 bestseller, with more than 6 million copies sold, and inspiration for the #ChooseKind movement, is the story of Auggie Pullman, an ordinary kid with an extraordinary face.  Born with a facial difference that for the first several years of his life prevents him from attending school, Auggie is finally allowed to enter fifth grade at Beecher Prep – but is the school ready for him?  In this long-awaited film, Julia Roberts and Owen Wilson star as the parents of Auggie, portrayed by Jacob Tremblay.  Stephen Chbosky directed and Steve Conrad wrote the screenplay, based on Palacio's book.
Watch the trailer:
December 15: 
"Ferdinand"
The Grosset & Dunlap classic children's book,
THE STORY OF FERDINAND
by
Munro Leaf
and illustrated by
Robert Lawson
, originally published in 1936, tells the story of the world's most peaceful and beloved bull, one that prefers smelling flowers to chasing red capes held by matadors in the bullfighting arenas of Spain.  FERDINAND, the movie, based on Leaf's book and directed by Carlos Saldanha, is a timeless tale of pacifism and nonviolence for all ages, and proves "you can't judge a bull by its cover."  Kate McKinnon, John Cena, Bobby Cannavale, and Gina Rodriguez are among the actors who give voice to the characters in the animated film.
Watch the trailer: