John Green
March 21, 2018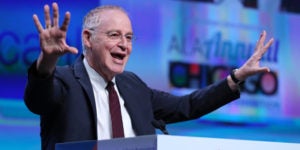 What is the next best thing to reading an amazing book?  Meeting the author! Organizing speaking events and creating magical moments that inspire and educate is at the heart of what the Penguin Random House Speakers Bureau and the Penguin Live programs do. Both connect authors with readers in interactive and dynamic ways designed to broaden our horizons and to deepen the impact of our books.
expand
Penguin Random House Speakers Bureau (U.S.)
The Penguin Random House Speakers Bureau
is a full-service lecture agency. It works with a wide range of organizations in the U.S. and throughout the world to identify preeminent speakers for important events. At present, the Bureau represents over 300 Penguin Random House authors, including Pulitzer Prize winners Ron Chernow (pictured above), Colson Whitehead, and Isabel Wilkerson, and bestselling authors Gillian Flynn, John Green, and R.J. Palacio. From historians and creative innovators to experts in international politics and heroic activists, its roster comprises a who's-who of thought leaders shaping critical cultural conversations. As others have put it: [caption id="attachment_10209" align="alignright" width="300"]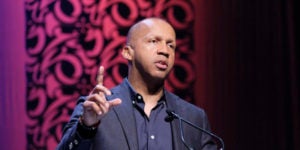 Bryan Stevenson[/caption] "
Bryan (Stevenson)
was simply astonishing. What an amazing man, and an incredible speaker. No notes, no PowerPoint, just stood up there and talked for over an hour, so brilliant!
We had 1,250 people, sold out of books and the surveys are all glowing.
Huge standing ovation."—
Lonnie Stonitsch, Executive Director, Family Action Network
"
Linda's (Kaplan Thaler)
passion and message was a hit with our audience of entrepreneurs – it connected at a deep personal level.  She inspired and energized our Forum kick-off which elevated the energy for the rest of the program.  Many commented it was one of the best keynotes we've had at a Virtuoso event, and given our who's who line-up, that's saying a lot."—
Matthew Upchurch, Chairman & CEO, Virtuoso, Ltd.
In an increasingly competitive market place, the PRH Speakers Bureau has grown into a thriving business, more than doubling its annual gross income over the last four years. Close to 500,000 people—at Fortune 500 companies, universities, libraries, conferences, and trade associations, in 23 countries—attended events in 2017 alone, and over 190,000 books were sold directly at these events. [caption id="attachment_10210" align="alignright" width="300"]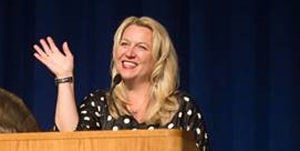 Cheryl Strayed[/caption] The Speakers Bureau continues to grow its prestigious list of clients, which includes Deloitte, Facebook, Google, Pinterest, Merrill Lynch, and YouTube. Its talent pool continues to grow as well.  In the last year alone,  it signed 39 new top lecturers, among them award-winning author Ta-Nehisi Coates, American political commentator Robert Reich, bestselling suspense author Lisa Gardner, world-renowned architect Daniel Libeskind, and Tara Westover, author of
EDUCATED
, already one of the most talked about memoirs of the year. "The Speakers Bureau has flourished since the merger, which brought two already successful lecture agencies together under one roof and allowed us to capitalize on our strong speaker and agent talent to great advantage for all our stakeholders.
Our goal is to provide a first-rate experience for every single client and for each individual event.
And happily, the breadth of our speaker roster is so great that if a prospective client's first choice is unavailable, our team works together collaboratively and cross-divisionally to provide them with an equally appealing alternative who can deliver a top-notch lecture." says 
Tiffany Tomlin
, Vice President and Executive Director of the Speakers Bureau. [caption id="attachment_10186" align="alignright" width="300"]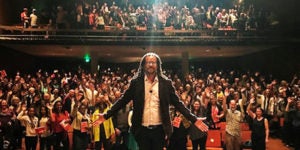 Colson Whitehead[/caption] New initiatives for the bureau in 2018 include "Company Reads," which applies the community read and first year experience concept to corporations by bringing employees together around a common book. Launching in June with a website and presence at the Society for Human Resources conference, the initiative will connect organizations with speakers, books, e-courses, and other unique programming opportunities that best fit their employee's needs.
Penguin Live (UK)
In the UK, Penguin Random House takes a different approach to organizing speaking events for their authors. Over the past few years, Penguin Random House UK has developed its own event production department,
Penguin Live
, which now produces over 50 ticketed events and tours per year, providing best-in-class opportunities for readers to enjoy live experiences with the writers they love. [caption id="attachment_10195" align="alignleft" width="300"]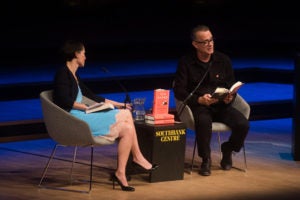 Tom Hanks[/caption] These range from intimate gatherings to extensive tours, featuring comedians and novelists, chefs and big thinkers: Ruby Wax, Simon Sinek, Caitlin Moran, and Irvine Welsh, to name a few. Penguin Live has also been creating show-stopping productions featuring household names like Tom Hanks, Margaret Atwood, and Tim Peake, and developing experiences manifesting our brand, such as the hugely successful
Penguin Pride @ Proud
– a key showcase at the heart of the Penguin Pride campaign, which celebrates the important role literature plays in the fight for LGBT rights. And because every Penguin Live event is organized around books, each not only drives book sales, but fosters communities connected by a shared passion for long-form reading.
September 27, 2017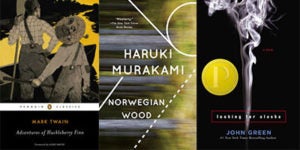 Throughout Banned Books Week, September 24 – 30, Penguin Random House will be highlighting frequently banned and challenged books to help raise awareness of the importance of defending our right to express ourselves and read without censorship or interference. Keep reading for Banned Books reading list inspiration, and stay tuned all week for more recommendations.
expand
Click
here
 to enter for your chance to win a personalized Banned Books Box filled with ten of your favorite books and a special banned books mug courtesy of Out of Print Clothing (No purchase necessary. US residents, 18+. Ends 9/30/17. See
Official Rules
.)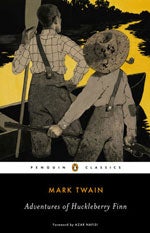 ADVENTUERES OF HUCKELBERRY FINN by Mark Twain
Challenge Reasons: Racism, Insensitivity, Offensive Language
An incomparable adventure story, it is a vignette of a turbulent, yet hopeful epoch in American history, defining the experience of a nation in voices often satirical, but always authentic. The classic boyhood adventure tale is updated with a new introduction by noted Mark Twain scholar R. Kent Rasmussen and a foreword by Azar Nafisi, author of
Reading Lolita in Tehran
and
The Republic of Imagination.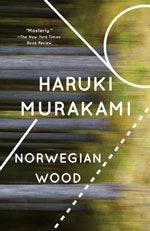 NORWEGIAN WOOD by Haruki Murakami
Challenge Reasons: Drugs, Sexually Explicit
Toru, a quiet and preternaturally serious young college student in Tokyo, is devoted to Naoko, a beautiful and introspective young woman, but their mutual passion is marked by the tragic death of their best friend years before. Toru begins to adapt to campus life and the loneliness and isolation he faces there, but Naoko finds the pressures and responsibilities of life unbearable. As she retreats further into her own world, Toru finds himself reaching out to others and drawn to a fiercely independent and sexually liberated young woman.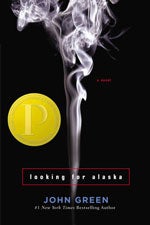 LOOKING FOR ALASKA by John Green
Challenge Reasons: Drugs/Alcohol/Smoking, Sexually Explicit, Offensive Language, Unsuitable for Age Group
Miles "Pudge" Halter falls in love with the gorgeous, clever, funny, sexy, self-destructive, screwed-up, and utterly fascinating Alaska Young, who is an event unto herself. She pulls Pudge into her world, launches him into the Great Perhaps, and steals his heart.  LOOKING FOR ALASKA, #1 bestselling author John Green's debut novel, brilliantly chronicles the indelible impact one life can have on another. Also during Banned Books Week, head over to 
Out of Print Clothing
to find out how you can contribute to hurricane relief efforts through book donations from Penguin Random House. For each piece of Banned Books merchandise sold on the Out of Print website during Banned Books Week, September 24 – 30, Penguin Random House will donate one book in support of hurricane relief efforts through
First Book
 up to 10,000 books.
Click here
to start browsing and give back.
September 21, 2017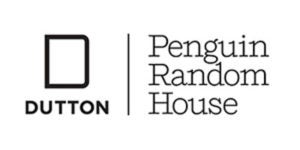 Christine Ball, Senior Vice President, Publisher, Dutton, announced this week the acquisition of AN ABSOLUTELY REMARKABLE THING, the first novel by Hank Green, best known for his enormously popular Vlogbrothers YouTube channel, which he created with his brother, John Green.  Executive Editor Maya Ziv won North American rights in a two-book deal at auction from Jodi Reamer at Writers House, LLC, with the first book to be published in Fall 2018. 
expand
News of this acquisition was revealed in
The New York Times
(click
here
to read the article) and was also featured in stories by the Associated Press, EntertainmentWeekly.com, Vulture.com, and other outlets. Christine Ball said, "It is a huge honor to have Hank Green join the Dutton list.  We're excited to be launching his literary career with his utterly unique novel.  AN ABSOLUTELY REMARKABLE THING will not only appeal to his massive fan base, but to lovers of exceptional fiction." AN ABSOLUTELY REMARKABLE THING tells the story of April May, an art student in New York City who happens across an impressive, mysterious sculpture of a giant robot in midtown Manhattan.  With the help of her friend Andy Skampt, she makes a video with the figure, naming it Carl. After news spreads that there are Carls in dozens of cities around the world – and nobody knows how they got there– April is thrust into an international spotlight and finds herself at the center of the quest to find out not just what The Carls are, but what they want from us.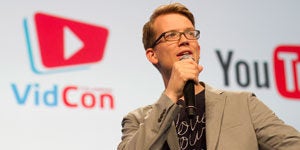 Hank Green said: "We're at a really weird moment in history, and April's story helps highlight several of those oddities that we're now seeing as more and more normal.  It's a story I've wanted to tell for a long time that was seeded by a lot of my personal experiences, but it's April's story, and it's been a pleasure watching her live her absolutely remarkable life. I am so excited to have a real-live novel be published by such a talented team." AN ABSOLUTELY REMARKABLE THING also grapples with big themes, including how the social Internet is changing fame, rhetoric, and radicalization; how our culture deals with fear and uncertainty; and how vilification and idolation spring from the same dehumanization that follows a life in the public eye. Hank Green is no stranger to fame himself. He started making YouTube videos in 2007 with his brother, John Green, #1 bestselling author of numerous young adult novels including
THE FAULT IN OUR STARS
and the forthcoming
TURTLES ALL THE WAY DOWN
, published by Penguin Random House's Dutton Books for Young Readers.  Since then, the two have built an enormous and dedicated community of fans.  Across their YouTube channels, which include
Crash Course
and
SciShow
, their videos have now been viewed more than 2 billion times.