national ambassador for young people's literature
January 4, 2018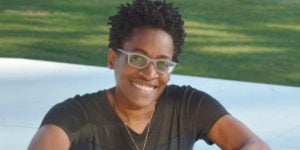 The Children's Book Council, Every Child a Reader, and the Library of Congress has announced the appointment of Jacqueline Woodson as the sixth National Ambassador for Young People's Literature.  Our Penguin Random House author is a four-time Newbery Honor Medalist, Coretta Scott King Book Award-winner, former Young People's Poet Laureate and National Book Award Winner for her memoir-in-verse BROWN GIRL DREAMING  (Nancy Paulsen Books).
expand
Woodson will travel nationwide over the course of her two-year term promoting her platform, READING = HOPE x CHANGE (What's Your Equation?), which encourages young people to think about – and beyond – the moment they're living in, the power they possess, and the impact reading can have on showing them ways in which they can create the hope and the change they want to see in the world. The inauguration ceremony, presided by the 14th Librarian of Congress Dr. Carla Hayden, will take place on Tuesday, January 9 at the Library of Congress, in Washington D.C. "I think the work ahead of me is challenging," says Jacqueline Woodson, "I don't believe there are 'struggling' readers, 'advanced' readers or 'non' readers. I'd love to walk away from my two years as Ambassador with the qualifiers gone and young people able to see themselves beyond stigma or oft-times debilitating praise. Martin Luther King Jr. said people should not be judged by the color of their skin but by the content of their character. In that regard, I think young people should not be judged by the level of their reading but by the way a book makes them think and feel. By the way it gives them hope. By the way it opens them up to new perspectives and changes them. I'm excited to have these conversations with some of the best conversationalists in our country – our young people." "We are delighted that Jacqueline Woodson has agreed to be the new National Ambassador for Young People's Literature," said Librarian of Congress Carla Hayden. "I have admired Jacqueline Woodson's work for years, especially her dedication to children and young-adult literature. The Library of Congress looks forward to Jacqueline's tenure of encouraging young readers to embrace reading as a means to improve the world." Nancy Paulsen, President and Publisher of Nancy Paulsen Books, says: "We think Jacqueline Woodson is the perfect Ambassador for our time because of her commitment to making sure all children have access to all kinds of books, and are sure to see themselves portrayed in those books. This is exactly what's needed to appeal to today's readers and to grow the next generation of book lovers." Carl Lennertz, Executive Director of Every Child a Reader and the Children's Book Council, added, "We couldn't be more pleased with the selection of Jacqueline Woodson as the next ambassador. She embodies everything that we look for in this position and we can't think of a more passionate advocate for young people and for reading over the next two years." The National Ambassador is selected for his or her contributions to young people's literature, the ability to relate to kids and teens, and dedication to fostering children's literacy in all forms. The selection, made by the Librarian of Congress, is based on recommendations from an independent committee comprising educators, librarians, booksellers, and children's literature experts. Woodson succeeds authors Jon Scieszka (2008–2009), Katherine Paterson (2010–2011), Walter Dean Myers (2012–2013), Kate DiCamillo (2014–2015), and Gene Luen Yang (2016-2017) in the position.
You can read more about Jacqueline's award-winning books

here.
January 4, 2018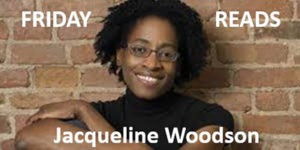 For the first Friday Reads of the New Year, we are focusing on young readers and hope for the future. Penguin Random House author Jacqueline Woodson was just named National Ambassador for Young People's Literature by The Children's Book Council, Every Child a Reader, and the Library of Congress. During her two-year term, Woodson, a four-time Newbery Award winner and former Young People's Poet Laureate, will travel the country promoting her platform, READING = HOPE x CHANGE (What's Your Equation?). You can read more about Jacqueline Woodson's appointment here and we invite you to immerse yourself in her award-winning books:
expand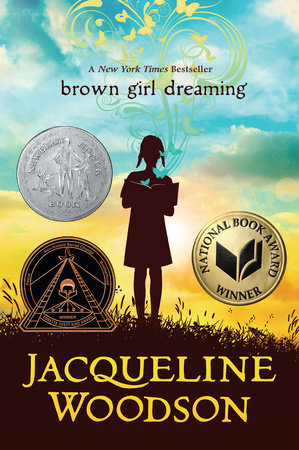 BROWN GIRL DREAMING
Winner of the National Book Award, the Coretta Scott King Author Award, and a Newbery Honor Book Beloved author Jacqueline Woodson shares the poignant, the gritty, and the sweet memories of her childhood—as well as revealing the first sparks that ignited her writing career—in these lyrical free-verse poems about growing up in the North and South.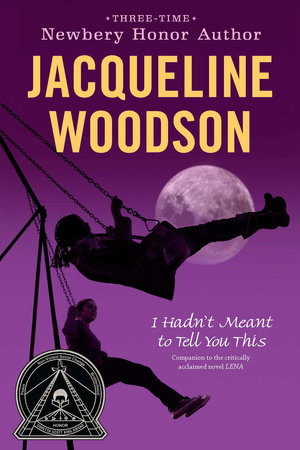 I HADN'T MEANT TO TELL YOU THIS MUCH
Coretta Scott King Award Winner Twelve-year-old Marie is a leader among the popular black girls in Chauncey, Ohio, a prosperous black suburb. She isn't looking for a friend when Lena Bright, a white girl, appears in school. Yet they are drawn to each other because both have lost their mothers. And they know how to keep a secret. For Lena has a secret that is terrifying, and she's desperate to protect herself and her younger sister from their father. Marie must decide whether she can help Lena by keeping her secret...or by telling it.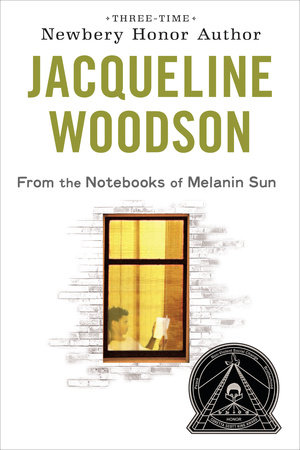 FROM THE NOTEBOOKS OF MELANIN SUN
Coretta Scott King Award Winner Melanin Sun has a lot to say. But sometimes it's hard to speak his mind, so he fills up notebooks with his thoughts instead. He writes about his mom a lot--they're about as close as they can be, because they have no other family. So when she suddenly tells him she's gay, his world is turned upside down. And if that weren't hard enough for him to accept, her girlfriend is white. Melanin Sun is angry and scared. How can his mom do this to him--is this the end of their closeness? What will his friends think? And can he let her girlfriend be part of their family?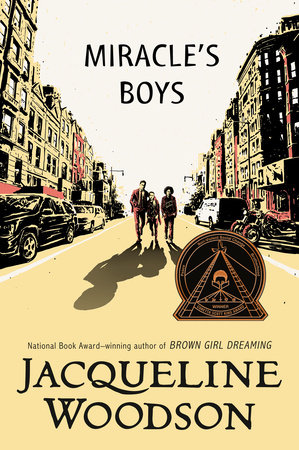 MIRACLE'S BOYS
Awarded the Coretta Scott King Award and the Los Angeles Times Book Prize Jacqueline Woodson brings us the story of three remarkable young men—brothers who have only each other to rely on and must decide whether they'll work with that or let it tear them apart. Nothing is like it used to be. If it were, Mama would still be alive. Papa wouldn't have died. And Charlie would still be the same old loving big brother to 13-year-old Lafayette, not a hostile stranger, just back from doing time at a correctional facility. Oldest brother, Ty'ree, would have gone to college, instead of having to work full-time to support the three of them. And Lafayette wouldn't be so full of questions, like why Mama had to die, why Charlie hates him so much now, and how they're all supposed to survive these times together when so much seems to be set against them.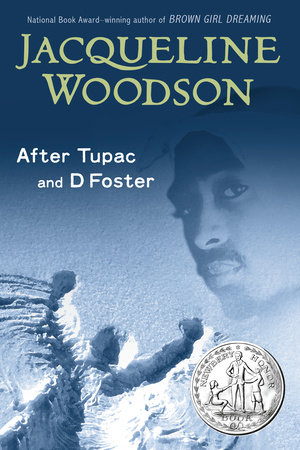 AFTER TUPAC AND D FOSTER
A Newbery Honor Book The day D Foster enters Neeka and her best friend's lives, the world opens up for them. Suddenly they're keenly aware of things beyond their block in Queens, things that are happening in the world—like the shooting of Tupac Shakur—and in search of their Big Purpose in life. When—all too soon—D's mom swoops in to reclaim her, and Tupac dies, they are left with a sense of how quickly things can change and how even all-too-brief connections can touch deeply. Includes a discussion guide by Jacqueline Woodson.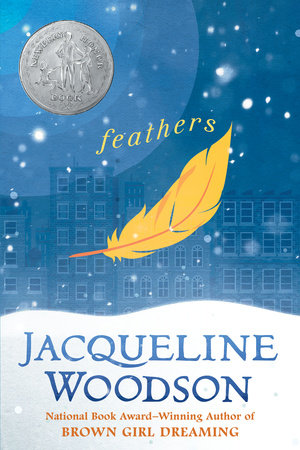 FEATHERS
A Newbery Honor Book "Hope is the thing with feathers" starts the poem Frannie is reading in school. Frannie hasn't thought much about hope. There are so many other things to think about. Each day, her friend Samantha seems a bit more "holy." There is a new boy in class everyone is calling the Jesus Boy. And although the new boy looks like a white kid, he says he's not white. Who is he? During a winter full of surprises, good and bad, Frannie starts seeing a lot of things in a new light—her brother Sean's deafness, her mother's fear, the class bully's anger, her best friend's faith and her own desire for "the thing with feathers."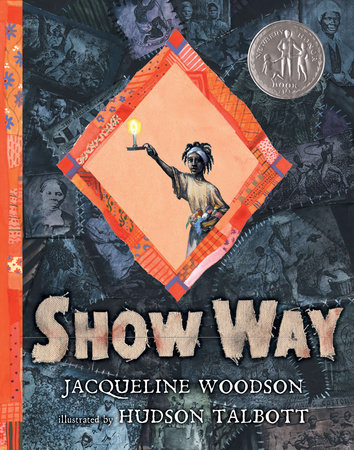 SHOW WAY
; Illustrated by Hudson Talbott; Ages 4-8 A Newbery Honor Book and Caldecott Medal Winner From slavery to freedom, through segregation, freedom marches and the fight for literacy, the tradition they called Show Way has been passed down by the women in Jacqueline Woodson's family as a way to remember the past and celebrate the possibilities of the future. Beautifully rendered in Hudson Talbott's luminous art, this moving, lyrical account pays tribute to women whose strength and knowledge illuminate their daughters' lives.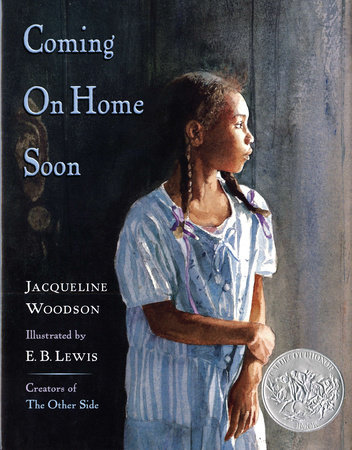 COMING ON HOME SOON
; Illustrated by E.B. Lewis; Ages 5-8 Winner of the Caldecott Medal Ada Ruth's mama must go away to Chicago to work, leaving Ada Ruth and Grandma behind. It's war time, and women are needed to fill the men's jobs. As winter sets in, Ada Ruth and her grandma keep up their daily routine, missing Mama all the time. They find strength in each other, and a stray kitten even arrives one day to keep them company, but nothing can fill the hole Mama left. Every day they wait, watching for the letter that says Mama will be coming on home soon. Set during World War II, 
Coming On Home Soon
 has a timeless quality that will appeal to all who wait and hope. For more on these and Jacqueline Woodson's other titles visit: 
Jacqueline Woodson
---
There's a Book for That!
is brought to you by Penguin Random House's Sales department. Please follow our Tumblr by clicking 
here
—and share this link with your accounts: 
theresabookforthat.tumblr.com
. Thank you! Did you see something on the news or read about something on your commute? Perhaps you noticed something trending on Twitter? Did you think: "There's a book for that!"? Then please, send it our way at 
theresabookforthat@penguinrandomhouse.com