Poets & Writers
April 3, 2018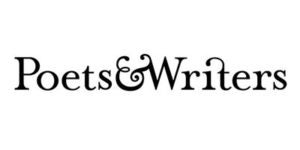 The annual spring gala benefit dinner for Poets & Writers—America's largest nonprofit service organization dedicated to fostering the professional development of poets, fiction writers, and creative nonfiction writers—is always an enjoyably memorable occasion to celebrate one of its core missions:   "to help create an environment in which literature can be appreciated by the widest possible public." This objective was thrillingly achieved at this year's event, held in Manhattan on March 28, at which Riverhead Books Vice President and Editorial Director Rebecca Saletan and Knopf authors Chimamanda Ngozi Adichie and Richard Russo were honored for their exceptional contributions to the writing and publishing community. 
expand
[caption id="attachment_10503" align="alignright" width="447"]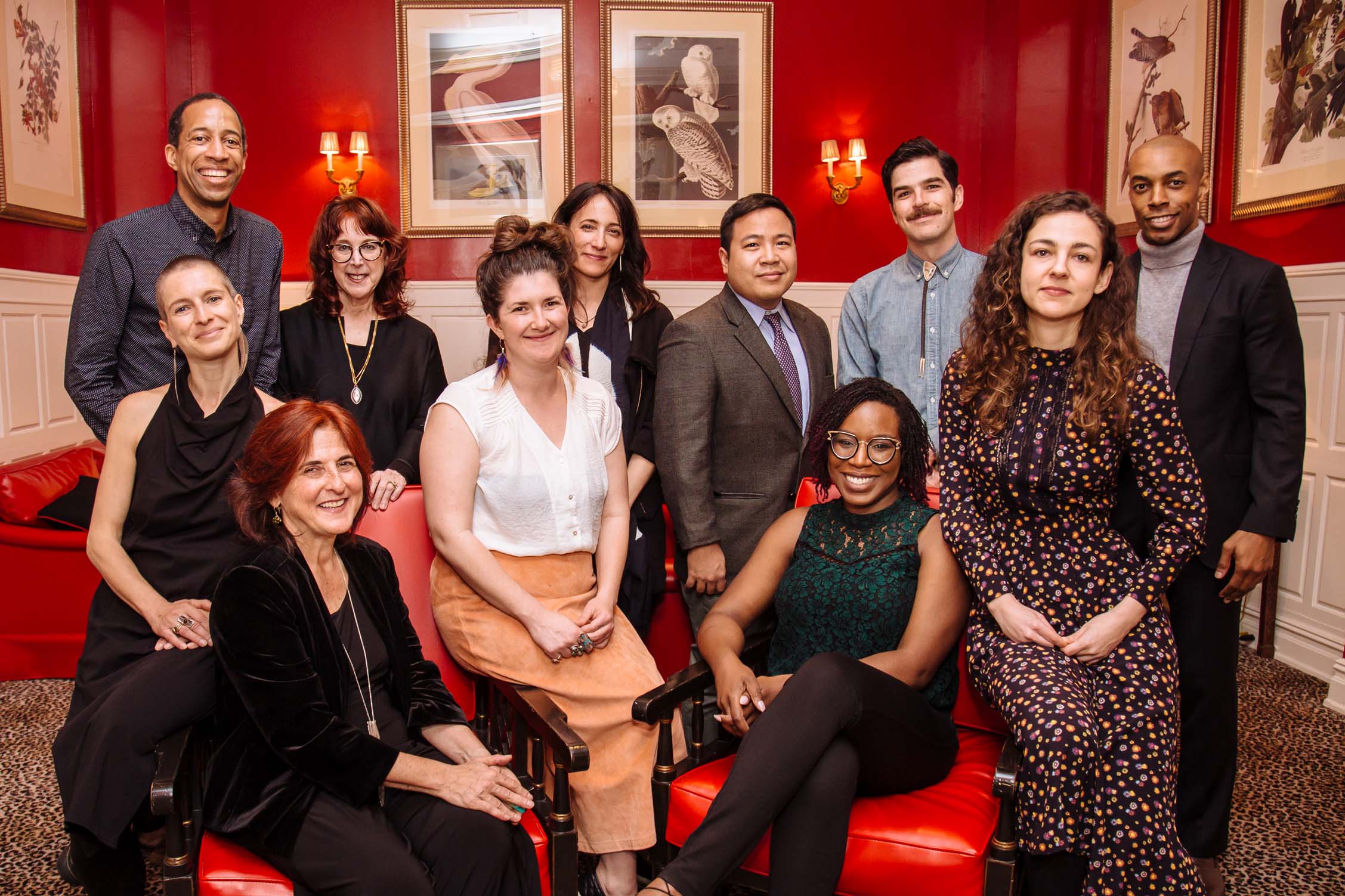 The 2018 Editor's Award winner Rebecca Saletan (front left) with several of the authors she has edited.[/caption] Rebecca Saletan is the recipient of "The Editor's Award" for 2018 from the group, which recognizes "a book editor who has made an outstanding contribution to the publication of poetry or literary prose over a sustained period of time." It was presented to her by
Masha Gessen
, whose
THE FUTURE IS HISTORY
won the 2017 National Book Award for Nonfiction. Before offering eloquent tributes from authors also edited by the nominee, many of whom were in attendance, Ms. Gessen said: "Becky has been my editor for the last 14 years and six books. She has given my books names and shape. She has made me feel that it was safe to take writing risks. That's what an editor does: she enables the writer to dare by showing that she will not let them make a fool of themselves. She is both the safety net and the tightrope walk that is writing (or that writing can be)." Ms. Saletan then spoke reflectively and movingly about being an editor. One highlight of many: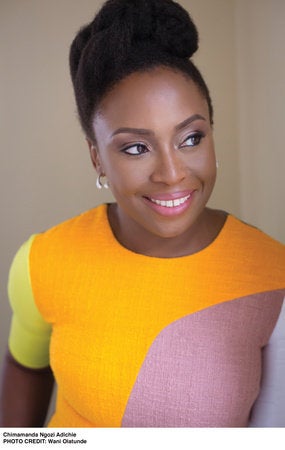 "When I think about the writers and books I have worked with, it's the dialogue about shape that I most remember. A draft of a story in which a kind of sonic boom goes off. The beginning demands an answering boom on the end. Rather than trying to launch six complicated characters at the outset, how about introducing them one by one, like a juggler putting balls in the air? Perhaps not surprisingly, all my career I have been drawn to writing and writers who are structurally innovative and do not fit into easy categories—fiction/nonfiction, narrative essay, poets AND  writers. I love that the very name of this organization allows for the reading that they are one and the same." Chimamanda Ngozi Adichie and Richard Russo each received "The Barnes & Noble Writers for Writers Award," which celebrates "authors who have given generously to other writers or to the broader literary community." Ms. Adichie,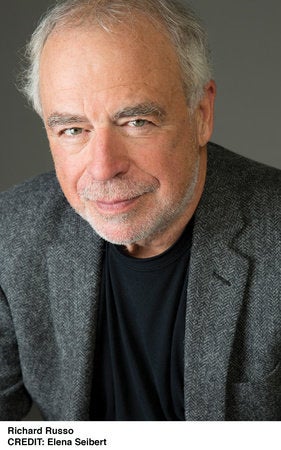 a fiction and nonfiction author whose acclaimed books include
AMERICANAH
, effusively paid tribute to the Poets & Writers bi-monthly magazine—considered to be a bible in the writing community for its extensive presentation of available writer prizes and grants, and for its authoritative interviews—as the first magazine she ever subscribed to. Mr. Russo, whose more than a dozen published works of fiction and nonfiction include
EMPIRE FALLS
and
NOBODY'S FOOL
, aptly expressed the spirit of the evening and singularity of its hosts, remarking: "Even the most solitary writers accrue debts—to agents, editors, publicists…Literary debts, like so many others, can only be paid forward. Helping emerging writers find an audience is one important way of doing that, and it's particularly important now, when there aren't nearly as many opportunities for young writers as there were when I myself was emerging … I offer what help I can to emerging authors because doing so, frankly, is fun …"
November 28, 2017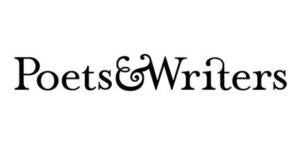 Poets & Writers, the distinguished nonprofit literary organization that fosters the professional creative development of poets as well as fiction and nonfiction writers, has announced its annual awards recipients:  
expand
Penguin Random House
authors
Chimamanda Ngozi Adichie
and 
Richard Russo
will receive the 2018 Writers for Writers Awards, "recognizing authors who have given generously to other writers or to the broader literary community."
Rebecca Saletan
, Vice President, Editorial Director,
Riverhead Books
, will receive the 2018 Editor's Award, which "honors a book editor who has made an outstanding contribution to the publication of poetry or literary prose over a sustained period of time." Author Susan Isaacs, who chairs the Poets & Writers' Board of Directors and the committee that annually selects the honorees, commented, "We receive nominations from writers, publishing professionals, and others in the literary community. From the information about the nominees and their accomplishments, we select three writers and an editor who exemplify Poets & Writers' core values: service, integrity, inclusivity, and excellence. This year's honorees are models of those qualities. The Board is delighted to be able to honor them. Their work makes me proud to be part of this community." [caption id="attachment_8794" align="alignright" width="166"]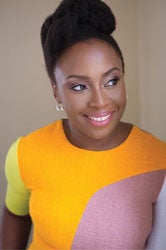 Chimamanda Ngozi Adichie
Photo Credit: Wani Olatunde[/caption] Chimamanda Ngozi Adichie is the author of several acclaimed novels, including 
HALF OF A YELLOW SUN
(Anchor) and
 AMERICANAH
(Anchor), as well as highly regarded essay collections,
WE SHOULD ALL BE FEMINISTS
 (Anchor) and 
DEAR IJEAWELE, or A Feminist Manifesto in Fifteen Suggestions
(Knopf).  Poets & Writers salutes Ms. Adichie for how she "supports and encourages younger writers through her work with the Farafina Trust Creative Writing Workshop in Nigeria, widely regarded as the premier writing program in Africa." [caption id="attachment_8795" align="alignleft" width="166"]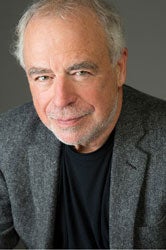 Richard Russo
Photo Credit: Elena Seibert[/caption] Richard Russo is the author of numerous bestselling novels, including the Pulitzer Prize-winning 
EMPIRE FALLS
(Vintage) and, most recently,
EVERYBODY'S FOOL
(Vintage).  Poets & Writers notes that Mr. Russo "is renowned as an advocate for other writers. While many well-known authors will blurb an emerging writer's book, Russo goes much farther, often planning joint appearances and hosting high-profile events to help bring attention to books and authors he believes in." [caption id="attachment_8796" align="alignright" width="237"]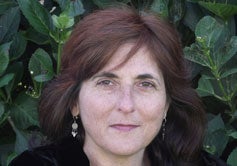 Rebecca Saletan
Photo Credit: Louie Saletan[/caption] Ms. Saletan is being recognized for "her long-standing commitment to championing diverse voices and lowering barriers to publishing, as well as her exceptional ability to spot talent and to inspire her colleagues."  During the course of her thirty-five-year career in publishing, she has worked with a wide range of authors, including 2017 National Book Award-winning author, journalist and social critic Masha Gessen; the late National Book Award-winning writer and environmentalist Peter Matthiessen; and internationally bestselling novelist and essayist Mohsin Hamid. Also being honored with a 2018 Writers for Writers award is Steve Cannon, who created "A Gathering of the Tribes," a New York City multi-cultural East Village institution since 1991. This performance venue and meeting place is for artists and audiences to come together across all artistic disciplines. The awards will be presented at Poets & Writers' annual dinner, In Celebration of Writers, on Wednesday evening, March 28, 2018, in Manhattan.