Celebrating Our 4 Audie Awards Winners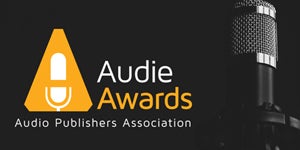 Penguin Random House won 4 Audies last night at the 22nd annual Audie Awards® in New York. The Audio Publishers Association (APA) annually presents the premier awards program for audiobooks in the United States, recognizing excellence in audiobooks and spoken word entertainment.
Here are our winners in the following categories:
SMALL GREAT THINGS by Jodi Picoult; read by Audra McDonald, Cassandra Campbell and Ari Fliakos; produced by Orli Moscowitz  (Random House Audio)
Literary Fiction & Classics
HOMEGOING by Yaa Gyasi; read by Dominic Hoffman; produced by Kelly Gildea  (Random House Audio)
Science Fiction


STAR WARS: The Force Awakens by Alan Dean Foster; read by Marc Thompson; produced by Aaron Blank (Random House Audio)
Young Adult
SALT TO THE SEA by Ruta Sepetys; read by Jorjeana Marie, Will Damron, Cassandra Morris and Michael Crouch; produced by Sarah Jaffe  (Listening Library)
Resounding congratulations to our authors, readers, producers, publishers, and everyone on the Penguin Random House Audio team.
View the complete list of 2017 Audie Awards winners here.
Posted: June 2, 2017