LINCOLN IN THE BARDO Wins Audiobook of the Year at the Audies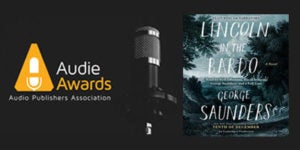 Penguin Random House Audio won the top prize – Audiobook of the Year – for George Saunders' LINCOLN IN THE BARDO (Random House Audio) last night at the 23nd annual Audie Awards® in New York. The Audio Publishers Association (APA) annually presents the premier awards program for audiobooks in the United States, recognizing excellence in audiobooks and spoken word entertainment.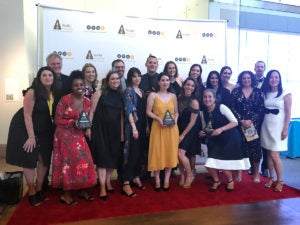 LINCOLN IN THE BARDO, narrated by Saunders, Nick Offerman, David Sedaris, and 163 other voices, was produced by Senior Exectuive Producer Kelly Gildea, who accepted the award on stage along with Amanda D'Acierno, Senior Vice President and Publisher, Dan Zitt,Vice President of Content Production, other Penguin Random House Audio team members, and several narrators.. On Wednesday, LINCOLN IN THE BARDO received the Indies Choice Audiobook of the Award at the Celebration of Bookselling & Author Awards Luncheon at BookExpo.
Penguin Random House Audio won more Audie Awards in these categories:
Nonfiction:
AMERICAN WOLF by Nate Blakeslee, narrated by Mark Bramhall and produced by Linda Korn   (Random House Audio)
Fiction:
ELEANOR OLIPHANT IS COMPLETELY FINE by Gail Honeyman, narrated by Cathleen McCarron (Penguin Audio)
Mystery:
THE GIRL WHO TAKES AN EYE FOR AN EYE by David Lagercrantz, narrated by Simon Vance and produced by Aaron Blank   (Random House Audio)
Middle Grade:
SEE YOU IN THE COSMOS by Jack Cheng, narrated by a full cast and produced by Karen Dziekonski (Listening Library)
Big congrats to the authors, narrators, producers, marketers and the entire award-winning PRH Audio team.In addition, Penguin Random House Audio won an Excellence in Marketing Audie Award for "Transform Your Commute," the NYC campaign that encouraged listeners to turn a sour commute sweet with audiobooks. Pictured at the Audies are several members of the marketing team who created the initiative (left to right) Vicki Tomao, Heather Dalton, and Rob Guzman.
To view the complete list of Audie Awards winners, click here.
Posted: June 1, 2018