Penguin Random House and Kellogg's Feeding Reading Partnership to Bring Books to Kids and Families Nationwide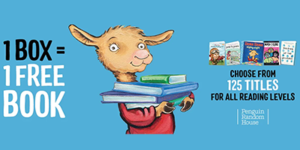 On Wednesday, July 24, Penguin Random House and Kellogg's launched the 2019 Feeding Reading program. To kick off the nationwide initiative, beloved New York Times bestselling authors Mary Pope Osborne and Vanessa Williams joined students from New York P.S. 130 at Kellogg's NYC Café for a snack-time story hour.  With Penguin Random House characters, corporate branding, and book covers to be featured on over 80,000,000 Kellogg's breakfast and snack packages, this is by far the largest direct-to-consumer program Penguin Random House has ever executed.
The Kellogg's Feeding Reading program offers anyone who buys a participating product to earn credits for a free Penguin Random House book. There are 125 titles across all reading levels, so children of all ages will be sure to find a book they'll love. Redeemed books can also be donated to a school or library. Last year alone, over 400,000 books were distributed to kids and families across the country through the Feeding Reading program.
"Seeing the Feeding Reading program hit shelves is truly a career highlight for me, Jessica Fink and our whole team," said Christine Dillon, VP & Director, Proprietary & Custom Premium Sales. "At Penguin Random House, we work every day to help kids become lifelong readers. We chose to work with Kellogg's because we have long admired their shared commitment to helping kids thrive. With this partnership, two industry leaders are collaborating to promote childhood literacy and bring books to kids, schools, and libraries throughout the country. It doesn't get more fulfilling than that."
At the launch event, Mary Pope Osborne delighted students with the story of how the Magic Tree House series came to be and invited them to vote on ideas for the 61st Magic Tree House book.  She then read aloud a chapter from HIGH TIDE IN HAWAII, part of the Magic Tree House series. "Reading is the most fun thing to do in the world," said Mary, and shared that by using their imagination, the kids can join Jack and Annie on all their adventures.
To continue her longtime support of child literacy, several of Mary Pope Osborne's Magic Tree House titles are included in the Feeding Reading program.  Her award-winning Magic Tree House series is an international phenomenon that has sold over 143 million books worldwide since its debut in 1992, and has been translated into 34 languages in more than 100 countries.
Award-winning Singer, Actress, Fashion Designer, and Author Vanessa Williams joined the snack-time story hour and read from one of her favorite books, THE POKY LITTLE PUPPY.  Vanessa talked with the kids about how reading opens so many worlds by kick-starting your imagination. Following the read aloud, Vanessa and Mary joined the students for a Q&A.
There are just a few simple steps to participate in this rewarding program:
Purchase participating Kellogg's®, Keebler®, Pringles® or Cheez-It® product by September 30, 2019.
Take a picture of your receipt and upload it to FeedingReading.com (receipts must be submitted within 30 days of purchase, no later than October 30, 2019).
Receive a credit to redeem for a book of your choice to keep or donate (credits must be redeemed by December 1, 2019; limit 10 books per Kellogg's Family Rewards account).
For more information on Kellogg's Feeding Reading program, including participating products and book choices, click here.
Posted: August 7, 2019