Riverhead's Masha Gessen 2017 NBA Nonfiction Winner; Our NBA Winners, 2013-17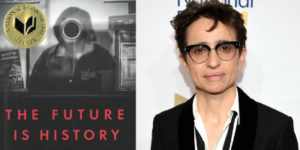 Masha Gessen, author of THE FUTURE IS HISTORY, was honored Wednesday night at a ceremony in Manhattan with the National Book Award for Nonfiction, continuing a cherished, time-honored connection for Penguin Random House authors with one of America's most coveted literary prizes.
This is the fifth consecutive year in which our authors have won at least one National Book Award, preceded by many NBA long-  and short-listers, as recognized by the respective panels of judges in each of the four categories.
THE FUTURE IS HISTORY: How Totalitarianism Reclaimed Russia by Masha Gessen(Riverhead Books Hardcover & E-book; Penguin Audio)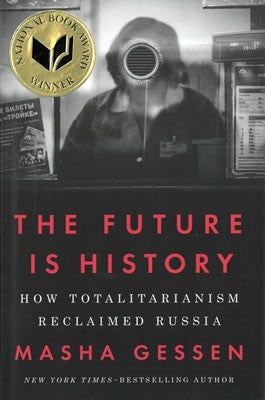 In THE FUTURE IS HISTORY, visionary journalist and bestselling biographer of Vladimir Putin Masha Gessen reveals how, in the space of a generation, Russia surrendered to a more virulent and invincible new strain of autocracy. Hailed for her "fearless indictment of the most powerful man in Russia" (The Wall Street Journal), Gessen is unparalleled in her understanding of the events and forces that have wracked her native country in recent times. She follows the lives of four people born at what promised to be the dawn of democracy. Gessen charts their paths against the machinations of the regime that would crush them all, and against the war it waged on understanding itself, which ensured the unobstructed reemergence of the old Soviet order in the form of today's terrifying and seemingly unstoppable mafia state. "A remarkable portrait of an ever-shifting era…Gessen weaves her characters' stories into a seamless, poignant whole. Her analysis of Putin's malevolent administration is just as effective…a harrowing, compassionate and important book," San Francisco Chronicle.
In accepting her Award, a beaming Masha Gessen spoke without prepared notes—because she "didn't think this was going to happen." She told the audience of 750 attendees that her final work ended up a much longer and different book on Russia than originally planned, thanking her publisher, Riverhead, "for sticking with me," and especially her long time editor Becky Saletan.
In congratulating Masha Gessen, Becky Saletan, and the Riverhead/Penguin Publishing Group and Penguin Random House Audio publishing teams, we also celebrate their counterparts behind our six NBA semi-finalists and five finalists for this year's National Book Awards.
The complete list of Penguin Random House National Book Award winners, 2013-2017:
Fiction:
2016: THE UNDERGROUND RAILROAD by Colson Whitehead (Doubleday)
2015: FORTUNE SMILES: Stories by Adam Johnson (Random House)
2014: REDEPLOYMENT by Phil Klay (Penguin Press)
2013: THE GOOD LORD BIRD by James McBride (Riverhead)
Nonfiction:
2017: THE FUTURE IS HISTORY: How Totalitarianism Reclaimed Russia by Masha Gessen(Riverhead Books)
2015: BETWEEN THE WORLD AND ME by Ta-Nehisi Coates (Spiegel & Grau)
Poetry:
2015: VOYAGE OF THE SABLE VENUS by Robin Coste Lewis (Knopf)
Young People's Literature:
2014: BROWN GIRL DREAMING by Jacqueline Woodson (Nancy Paulsen Books)
With this Nonfiction National Book Award, we continue a 2017 of extraordinary achievement, in which the highest literary honors have been bestowed upon our Penguin Random House North America authors and their work:
The Newbery Medal for LAST STOP ON MARKET STREET by Matt de la Pena, illustrated by Christian Robinson; Grammy® for IN SUCH GOOD COMPANY by Carol Burnett (Best Spoken Word); National Book Critics Circle Awards for EVICTED by Matthew Desmond (Nonfiction); LAB GIRL by Hope Jahren (Autobiography).  Pulitzer Prizes for THE UNDERGROUND RAILROAD by Colson Whitehead (Fiction); EVICTED by Matthew Desmond (General Nonfiction); BLOOD IN THE WATER by Heather Ann Thompson (History); THE RETURN by Hisham Matar (Biography).  The Man Booker Prize for LINCOLN IN THE BARDO by George Saunders.  The Nobel Prize for Literature for Kazuo Ishiguro.
We all share our publishing colleagues' pride and thrill in our authors' achievements.  What a privilege to be in such company and for all of us to contribute to building their readership.
Posted: November 16, 2017