Watch the HBO Trailer for TV Adaptation of THE IMMORTAL LIFE OF HENRIETTA LACKS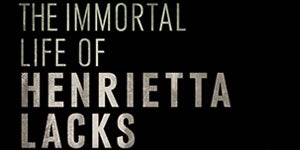 Oprah Winfrey, Rose Byrne and Renée Elise Goldsberry star in the HBO adaptation of the Crown/Broadway Books New York Times bestseller, THE IMMORTAl LIFE OF HENRIETTA LACKS by Rebecca Skloot. A trailer has been released to promote the HBO Films' April 22 premiere. 
The biopic tells the story of Henrietta Lacks (played by Ms. Goldsberry of Hamilton fame), the black woman whose cells — which were harvested without her permission as she lay dying from cancer in 1951 — led to the discovery of the polio vaccine, in vitro fertilization, and gene mapping. The story is told through the eyes of her daughter Deborah (Winfrey), who teams up with Ms. Skloot (Byrne) to learn about the mother she never knew.
George C. Wolfe, who adapted and directed the film, told Entertainment Weekly: "The book connects the epic with the intimate, and that's the movie's ambition. This woman's cells helped heal the planet, yet her children were suffering. They didn't know their mother's story, even though they were living in the shadows of Johns Hopkins. I found that dichotomy incredibly moving."
Watch the trailer here.
Last fall, Ms. Skloot's book also sparked a group of Oakland, California middle school students to produce and star in a rap video that took social media by storm. Read about the phenomenon in our story: Must-Watch Rap Video by Middle Schoolers Inspired by Rebecca Skloot's Bestseller
Posted: February 21, 2017