#ProjectReadathon Million Minutes Campaign Donates 300,000 Books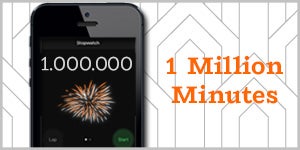 Penguin Random House in the U.S., Canada, and Mexico joined together this April for the inaugural #ProjectReadathon Million Minutes campaign. From April 17 through April 23, the week leading up to World Book Day, the one-week giving and reading campaign offered readers the opportunity to help children in local communities throughout North America – simply by reading.
#ProjectReadathon invited readers to visit a specially created online reading platform at ReadWell.PenguinRandomHouse.com where they could read free, timed excerpts from over 200 of our books and authors.
The campaign was based on the belief we all share at Penguin Random House; that the simple act of reading can have far-reaching social impact. With this in mind, the more minutes a user read, the more book donations were triggered from us to Save the Children.
With enthusiastic support from authors, readers, and partners, the one-week initiative surpassed its one-million minutes goal and the campaign resulted in 300,000 books being donated to Save the Children, benefitting children in need in the US, Canada and Mexico.
How #ProjectReadathon worked:
Each excerpt on the platform noted how many minutes would be added and how many books would be donated throughout the campaign.
For example, reading a 20-minute excerpt "unlocked" a 5-book donation from Penguin Random House to Save the Children; reading an hour unlocked a 20-books donation.
The books went to Save the Children literacy programs, which help young students transition from learning to read to reading to learn.
Contributing Partners:
Also joining the #ProjectReadathon Million Minutes campaign were Charity Miles and Tab for a Cause, two organizations that enable consumers to give back through everyday activities. Users were invited to add minutes to the Project through reading at ReadWell.PenguinRandomHouse.com, as well as through the Charity Miles and Tab for a Cause platforms for special in-app and on-platform opportunities.
A Worldwide Celebration of Books and Giving Back:
#ProjectReadathon took place in the US, Canada and Mexico, and culminated on April 23 in honor of UNESCO's World Book and Copyright Day, World Book Night (UK) and St. Jordi Day (Spain). Penguin Random House employees across the US, Canada, Mexico, UK, and Spain took part in local celebrations in honor of these events, as they joined together in a global celebration of books and reading to give back to their local communities.
The ReadWell.PenguinRandomHouse.com platform will remain active and be implemented for future Penguin Random House campaigns and initiatives across North America that continue to celebrate the power of books and connect our authors and their writing with readers everywhere.
Posted: June 25, 2017