diversity and inclusion
June 4, 2018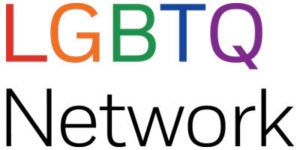 Coinciding with the beginning of Pride Month, Publisher's Weekly featured a special section devoted to LGBTQ Publishing. The lead article, "Office Support: Pride Groups at Publishing Houses Bring Employees Together and Advocate for LGBTQ Books," opened with a fabulous photo of the Penguin Random House LGBTQ Network. Nora Alice Demick, who co-chairs the network with Tan Chan, was quoted extensively throughout the piece.
expand
Here is an excerpt
:
Nora Alice Demick, who works in marketing at Riverhead, Viking, and Penguin Books, co-chairs the Penguin Random House LGBTQ Network with Tan Chan, a designer. They inherited the group from founder Emanuel Xavier, a poet, author, and activist who works in special markets at PRH. Xavier launched the network in 2011 on the heels of the company creating a video for the It Gets Better project, which supports bullied LGBTQ youths.
Demick and Chan took the lead in 2017, and one of their first changes was to add the Q to the group's name. "We thought this would better represent the different orientations and gender identities that we have here at PRH, and we wanted people to know that we acknowledged their existence," Demick says. "We want people, LGBTQ or otherwise, to know that we're here. That was one of the biggest issues—no one knew that there was an LGBTQ network at PRH."
In the past year, the network has expanded from brown bag lunches and happy hours to fundraising and volunteering. "We did a huge, successful bake sale for the Trinity Place Shelter, a homeless shelter for LGBTQ youth in Manhattan," Demick says. "We sold out in an hour and had to go scrounge up croissants because we didn't have anything else left to sell."
About 150 employees have signed up for the group's mailing list. The network will participate in New York's Pride March again this year and is organizing book giveaways and panel discussions throughout June. Activities come to a head during Pride Month, but the group also pursues long-term projects, such as its crowdsourced bibliography of LGBTQ literature.
"To look back and see that we have all these titles by LGBTQ individuals—as a queer person, it's empowering," Demick says. "It makes me confident every single day walking into work."
To read the complete
PW
article, click
here.
Feel free to spread the word on social media. A reminder: if you are posting to a personal or other non-PRH account you must include the hashtag #TeamPRH.
Following the publication of this article, Igloo interviewed Nora Alice Demick. Read our Q&A with her below
:
What were your first reactions to seeing/reading how prominently the Penguin Random House LGBTQ Network was featured in the "Office Support" article as part of PW's LGBTQ Publishing special section?
At the risk of sounding thematic, definitely pride. An overwhelming sense of pride— and excitement, of course! There are many other organizations that are doing such important work and to be alongside them in the article is an honor. [caption id="attachment_114138" align="alignright" width="300"]
Tan Chan and Nora Alice Demick[/caption]
How do you think this exposure will help raise awareness of the PRH LGBTQ Network and LGBTQ publishing?
Both in-house and externally, I think exposure has been one of our greatest challenges. I'm hoping this article will help us break through some of the noise to reach new employees and other organizations with likeminded goals. In many ways, LGBTQ initiatives in publishing have run under the radar in comparison to other forms of media. Now, PW has introduced not only to the public, but to each other! We're already brainstorming how we can collaborate and work with other groups.
How has the Network evolved since you and Tan took the helm?
I think we've evolved in a lot of ways— one of our first objectives was adding the "Q" to the end of LGBT, to better represent the many different orientations and gender identities that we have here at PRH. We've also grown our board. Tan and I had a lot of ideas (and a lot of enthusiasm!) and quickly realized the difficulties of trying to accomplish so much with just the two of us. We interviewed candidates and brought on a Design Chair, an Advocacy Chair, a Social Chair and an Uptown Chair, each with a specific skill set to help us develop in new areas. We think we have a more consistent presence then we had in the past, while also building an online footprint to connect with the greater queer community (shameless plug: follow us on Instagram @prhlgbtq!). And we just want to keep expanding our Network-- in-house and beyond.
Where would you like to see the PRH LGBTQ Network go from here?
Everywhere (eventually)! First and foremost, the roots of our network are the diverse employees of PRH, and that's always going to be where it starts-- connecting employees, making sure they feel heard and safe. We want to grow our monthly activities to be more varied, we want to sponsor more networking events and we want our email distro to reach 30 million subscribers before corporate does (just kidding)! There are so many incredible diversity initiatives happening company-wide— we are working on finding our place in this larger ecosystem. As queer topics/titles become more prominent, we want to help PRH navigate this new reader landscape and as I mentioned in the article, we'd love to one day have imprints reach out directly to us every time they publish an LGBTQ+ book, or acquire a queer author. In the immediate future, we will be marching in the NYC Pride March on the 24th, which we are very excited for.
February 27, 2018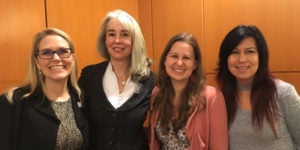 At our latest Igloo Live event, Marysarah Quinn (SVP, Director of Creative Design, Crown) and Kendra Levin (Associate Editorial Director, Viking Books for Young Readers) shared first-hand accounts about their week spent volunteering in Rwanda in partnership with Save the Children on their School-Community Partnership for Education (SCOPE) project.   The discussion, which took place on February 5 at 1745 Broadway, was moderated by Save the Children's Jennifer Kendra (Director of Impact Marketing and Partnership Innovation).  Melanie Fallon-Houska (Director, Corporate Giving, Penguin Random House), who worked closely together with Jennifer to realize this amazing volunteer opportunity, also joined the panel to introduce the guests and talk about other exciting opportunities to support our companywide Social Impact initiatives.
expand
Please watch the video below that debuted at this Igloo Live event: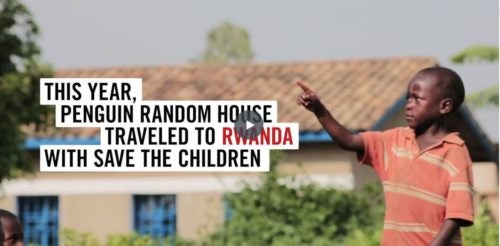 Hearing Marysarah and Kendra discuss their Rwanda volunteer experience at Igloo Live, attendees also gained insights into how this African country's history and ongoing censorship practices impact their publishing industry and the challenges faced in bringing meaningful books to Rwandan readers.
You can listen to the event by clicking

here.
  The panel starts at 2:45' into the recording.  In order to watch the panel,  you need to maximize the video by clicking on the arrows in the upper right corner. For further insights, read this feature:
Our Volunteers Kendra Levin and Marysarah Quinn Revisit Their Week in Rwanda
Marysarah and Kendra also mentioned and recommended titles of a number of books related to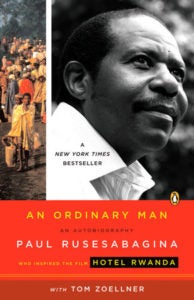 Rwanda:
WE WISH TO INFORM YOU THAT TOMORROW WE WILL BE KILLED WITH OUR FAMILIES  by Philip Gourevitch
AN ORDINARY MAN by Paul Rusesabagina and Tom Zoellner
THE ANTELOPE'S STRATEGY  by Jean Hatzfeld
BAD NEWS by Anjan Sundaram
OUR LADY OF THE NILE by Scholastique Mukasonga
LIFE LAID BARE by Jean Hatzfeld
MACHETE SEASON  by Jean Hatzfeld
100 DAYS by Juliane Okot Bitek
LAND OF A THOUSAND HILLS by Rosamond Halsey Carr
SHAKE HANDS WITH THE DEVIL by Romeo Dallaire
LAND OF SECOND CHANCES: THE IMPOSSIBLE RISE OF RWANDA'S CYCLING TEAM by Tim Lewis