Man Booker International Prize
May 23, 2018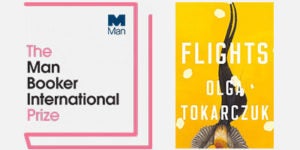 FLIGHTS, a "non-traditional" narrative by acclaimed Polish author Olga Tokarczuk, has won the 2018 Man Booker International Prize, awarded annually to a fiction work judged to be the year's outstanding work of translated fiction. Translator Jennifer Croft will share the 50,000 pound prize with Tokarczuk.
FLIGHTS will be published in the U.S. by Riverhead on August 14.
expand
This is the third consecutive year a Penguin Random House U.S. title has won the Man Booker International. Israeli author David Grossman was honored in 2017 for his
A HORSE WALKS INTO A BAR
, translated by Jessica Cohen, and published by Vintage International. And in 2016 Korean author Han Kang won the prize for
THE VEGETARIAN
, translated by Deborah Smith, and published by Hogarth. [caption id="attachment_113616" align="alignright" width="280"]
Olga Tokarczuk and Jennifer Croft[/caption] The 2018 five-person panel of judges was chaired by Lisa Appignanesi. She described Tokarczuk's work as a "constellation novels," whose stories are sent into creative "orbit" by the writer. In the citation, she said, in part: "We loved the voice of the narrative—it's one that moves from wit and gleeful mischief to real emotional texture and has the ability to create character very quietly, with interesting digression and speculation." "Tokarczuk," the chairwoman added, is "a writer of wonderful wit, imagination and literary panache … [she] "has written a great many books that sound amazing but which haven't been translated yet." Tokarczuk and Croft received their award Tuesday night, May 22, in a London ceremony.
April 13, 2018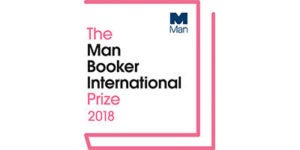 The Man Booker International Prize, which annually celebrates the finest works of translated fiction from around the world, has announced its 2018 shortlist of six titles, with three of the books published by Penguin Random House imprints:
expand
THE WHITE BOOK by Han Kang
(South Korea), translated by Deborah Smith (
Hogarth
to publish in the U.S. in Spring 2019)
FRANKENSTEIN IN BAGHDAD by Ahmed Saadawi
(Iraq), translated by Jonathan Wright (
Penguin Books
published in the U.S. 1/23/18)
FLIGHTS by Olga Tokarczuk
(Poland), translated by Jennifer Croft (
Riverhead Books
to publish in the U.S. 8/14/18) View the complete Man Booker International Prize 2018 shortlist
here
. The panel of judges included two Penguin Random House authors: Hari Kunzru, whose most recent book is
WHITE TEARS
(
Vintage
), and Helen Oyeyemi, whose most recent book is
WHAT IS NOT YOUR IS NOT YOURS
(
Riverhead

)
.
The winner of the 2018 prize will be announced on May 22 at an awards dinner at the Victoria & Albert Museum in London, with the £50,000 prize being divided equally between the author and the translator of the winning book. In addition, each shortlisted author and translator will share £1,000 each.
June 15, 2017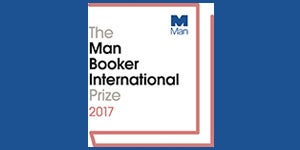 The winner of the 2017 Man Booker International Prize is David Grossman for A HORSE WALKS INTO A BAR, published by Alfred A. Knopf in the U.S. and Canada, and Jonathan Cape in the U.K., it was announced Wednesday night in London.  Mr. Grossman, bestselling Israeli author of fiction, nonfiction
expand
and children's literature, shared the award with the book's English-language translator, Jessica Cohen, the pair dividing the most prestigious prize for translated fiction in the U.K.   Congratulations to Mr. Grossman and his publisher, as well as Ms. Cohen. Nick Barley, chair of the 2017 judging panel, commented, "David Grossman has attempted an ambitious high-wire act of a novel, and he's pulled it off spectacularly.  A HORSE WALKS INTO A BAR shines a spotlight on the effects of grief, without any hint of sentimentality. The central character is challenging and flawed, but completely compelling. We were bowled over by Grossman's willingness to take emotional as well as stylistic risks: every sentence counts, every word matters in this supreme example of the writer's craft."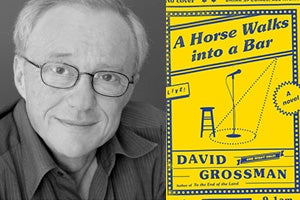 A HORSE WALKS INTO A BAR is searing short novel about the life of a stand-up comic, as revealed in the course of one evening's performance. In the dance between comic and audience, with barbs flying back and forth, a deeper story begins to take shape—one that will alter the lives of many of those in attendance. Prior Man Booker International Prize winners include Penguin Random House authors Han Kang (in 2016, the first year the Prize was awarded to a single book rather than an author's body of work), Chinua Achebe (in 2007) and Alice Munro (in 2009).