From Page to Screen
September 28, 2017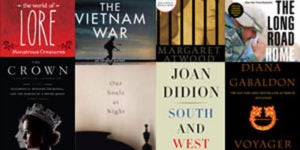 This year's fall television and streaming season is upon us, with a number of new shows, series and films based on books published by Penguin Random House imprints, as well as two new books of ours based on the programming itself. The following viewers and readers guide shines the spotlight on this diverse selection:
expand
"THE VIETNAM WAR"
https://www.youtube.com/watch?v=iWFzaUlZz-k&feature=youtu.be Ken Burns and Lynn Novick's ten-part, 18-hour PBS-TV documentary series, THE VIETNAM WAR, tells the epic story of one of the most consequential, divisive, and controversial events in American history as it has never before been fully presented on film.
THE VIETNAM WAR: An Intimate History by Geoffrey C. Ward and Ken Burns
is the expansive, richly illustrated
Knopf
book based on the series. Ten years in the making, the series includes rarely seen and digitally re-mastered archival footage from sources around the globe, photographs taken by some of the most celebrated photojournalists of the 20th Century, historic television broadcasts, evocative home movies, and secret audio recordings from inside the Kennedy, Johnson, and Nixon administrations. The book, which serves as a companion to the series, plunges us into the chaos and intensity of combat, even as it explains the rationale that got us into Vietnam and kept us there for so many years. Rather than taking sides, the book and series seek to understand why the war happened the way it did, and to clarify its complicated legacy.
Airing throughout September on PBS television stations, the series is also streaming on PBS apps.
"OUTLANDER"
https://www.youtube.com/watch?v=V1YrLG2ddQs&feature=youtu.be The third season of the highly-rated Starz adaptation of
Diana Gabaldon's
multi-million-bestselling Outlander series focuses primarily on the third book in the series,
VOYAGER
(
Dell
), continuing the story of Claire Randall and Jamie Fraser. Two decades before, Claire had traveled back in time and into the arms of Jamie, a gallant eighteenth-century Scot. Then she returned to her own century to bear his child, believing him dead in the tragic battle of Culloden. Yet his memory has never lessened its hold on her. When Claire discovers that Jamie has survived, she is torn between returning to him and staying with their daughter in her own era.
The third season premiered on Starz September 10, with new episodes airing weekly into the fall.
"OUR SOULS AT NIGHT"
https://www.youtube.com/watch?v=lci71HjGvaM&feature=youtu.be The Netflix adaptation of
Ken Haruf's
novel,
OUR SOULS AT NIGHT
(
Knopf/Vintage
), reunites Oscar-winners Robert Redford and Jane Fonda for the fourth time. Addie (Fonda) and Louis (Redford), long-widowed, empty nesters, come to know each other better and discover a second chance at love in the small community of Holt, Colorado. The film, which has received positive reviews, is also enjoying a concurrent brief run in select theaters.
Premieres on Netflix, September 29
"LORE"
https://www.youtube.com/watch?v=TPnuT2TLvLQ&feature=youtu.be
Aaron Mahnke's THE WORLD OF LORE: Monstrous Creatures
(
Del Rey
) is the basis for a new Amazon horror anthology. Spread across six episodes, the series explores the disturbing history behind a number of horror-tinged myths. In his book, Mahnke, the host of the hit podcast Lore, serves as a guide on a fascinating journey through the history of terrifying creatures. In a world of "emotional vampires" and "zombie malls," the monsters of folklore have become both a part of our language and a part of our collective psyche. Of note, Mahnke invites readers to the desolate Pine Barrens of New Jersey, where the notorious winged, red-eyed Jersey Devil dwells.
Premieres on Amazon Prime, October 13
"JOAN DIDION: The Center Will Not Hold"
Across more than fifty years of essays, novels, and criticism,
Joan Didion
has chronicled the changing tides of American culture and politics – often in deeply personal ways. This upcoming documentary,
JOAN DIDION: The Center Will Not Hold,
directed by Didion's nephew Griffin Dunne, is primarily based on
SOUTH AND WEST: From a Notebook
(
Knopf
), in which Didion presents excerpts from two notebooks. In one, she traces a road trip she took with her late husband, John Gregory Dunne, in June 1970, through Louisiana, Mississippi, and Alabama. She interviews prominent local figures, describes motels, diners, a deserted reptile farm, a visit with Walker Percy, a ladies' brunch at the Mississippi Broadcasters' Convention. A different notebook, the "California Notes," began as an assignment from
Rolling Stone
on the Patty Hearst trial of 1976. Though Didion never wrote the piece, watching the trial and being in San Francisco triggered thoughts about the city, its social hierarchy, the Hearsts, and her own upbringing in Sacramento. Dunne's documentary, which debuts next month as part of the New York Film Festival, intersperses archival footage alongside his interviews with his Aunt Joan, delving into her extraordinary body of work and its impact on our cultural landscape. Of note: footage of Didion partying with Janis Joplin in a house full of L.A. rockers in the '60s; hanging out in a recording studio with Jim Morrison of The Doors; and cooking dinner for one of Charles Manson's followers for a magazine story.
Debuts at The New York Film Festival, with screenings on October 11, 12 and 14; and then premieres on Netflix, October 27
"ALIAS GRACE"
https://www.youtube.com/watch?v=A-fofQ9VpPQ&feature=youtu.be On the heels of the success of Hulu's
The Handmaid's Tale,
based on
Margaret Atwood
'
s
novel of the same name and winner of six Emmy Awards, our author's work is a hot property in Hollywood. Expectations are high for
Alias Grace,
an adaptation Atwood's
ALIAS GRACE: A Novel
(
Anchor
). In the book, it is 1843, and Grace Marks has been convicted for her involvement in the vicious murders of her employer and his housekeeper and mistress. Some believe Grace is innocent; others think her evil or insane. Now serving a life sentence, Grace claims to have no memory of the murders. An up-and-coming expert in the burgeoning field of mental illness is engaged by a group of reformers and spiritualists who seek a pardon for Grace. He listens to her story while bringing her closer and closer to the day she cannot remember. What will he find in attempting to unlock her memories? Produced by Netflix and Canada's CBC, the six-part series will tell the story of Marks and delves deeply into this twisty tale.
Premieres on Netflix, November 3
"THE LONG ROAD HOME"
https://www.youtube.com/watch?v=fNP5PaKXlN8&feature=youtu.be Based on ABC News reporter and author
Martha Raddatz's
searing nonfiction book,
THE LONG ROAD HOME: A Story of War and Family
(
Berkley
), this National Geographic series recounts, across eight episodes, the harrowing story of The First Cavalry Division, which suffered a surprise attack on the streets of Sadr City, a district of Baghdad, on April 4, 2004. The series, like the book, will chronicle the events of the attack through the eyes of the soldiers who lived it.
Premieres on the National Geographic Channel, November 7
"THE CROWN"
https://www.youtube.com/watch?v=k15O_eBfUuk&feature=youtu.be Season two of Netflix's critically acclaimed and Emmy Award-winning series,
The Crown,
is expected to wade into darker territory. There will be more emphasis on the complexities of Elizabeth's (Claire Foy) marriage to Prince Philip (Matt Smith) while also delving into Philip's backstory – one that is both extraordinary and tragic.
THE CROWN: The Official Companion, Volume 1: Elizabeth II, Winston Churchill, and the Making of a Young Queen (1947-1955)
(
Crown Archetype
) was written by the show's historical consultant and royal biographer,
Robert Lacey
. The book is filled with beautifully reproduced archival photos and show stills, adding expert and in-depth detail to the events of the series, painting an intimate portrait of life inside Buckingham Palace and 10 Downing Street. A wonderful holiday gift for THE CROWN fan in your life.
Premieres on Netflix, December 8
September 21, 2017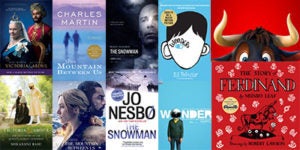 Several motion pictures based on our books are debuting on theater screens across North America this fall, beginning this weekend and continuing into the pre-holiday season.  Our hope is that the old adage – "see the movie, read the book" – will continue to prevail among filmgoers.   Read on, and watch the trailers. 
expand
September 22:  
"
Victoria & Abdul"
The extraordinary friendship between an elderly, ailing Queen Victoria and her young Indian companion, Abdul Karim, is chronicled in
Shrabani Basu's
book,
VICTORIA & ABDUL: The True Story of the Queen's Closest Confidant
(Vintage). Lonely in the wake of the deaths of her beloved Prince Albert and John Brown, and increasingly isolated from the cocooning royal entourage, Victoria and Abdul formed a platonic bond, and to the dismay of her staff and son Bertie he became an empowered figure in her court and a friend close to her heart.  In the film, directed by Stephen Frears, Dame Judith Dench portrays
Queen Victoria and Ali Fazal plays Abdul Karim.  Michael Gambon and Eddie Izzard are also part of the cast.
Watch the trailer:
October 6:
"The Mountain Between Us"
Charles Martin's
THE MOUNTAIN BETWEEN US
(Broadway) is a life-affirming tale of love and survival.  Following a plane crash, a pair of strangers – one a doctor, the other a writer – are stranded in the remote wilderness of Utah. With winter closing in, no food or water, and only meager supplies, the pair is forced to rely on one another.  As the days in the mountains become weeks, their mutual survival becomes increasingly perilous.  The film, starring Kate Winslet and Idris Elba, was directed by Hany Abu-Assad and written by Chris Weitz and J. Mills Goodloe, based on Martin's book.
Watch the trailer: 
October 20:
"The Snowman"
Jo Nesbo's
THE SNOWMAN
(Vintage), the eighth Harry Hole novel, revolves around a bizarre missing-person's investigation that sets Hole on the trail of an elusive and brutal serial killer. One night, after the first snowfall of the year, a boy wakes up and discovers that his mother has disappeared. Only one trace of her remains: a pink scarf, his Christmas gift to her, now worn by the snowman that inexplicably appeared in their yard earlier that day.  Inspector Hole suspects a link between the missing woman and a suspicious letter he has received. The case deepens when a pattern emerges: over the past decade, eleven women have vanished—all on the day of the first snow.  In the film, directed by Tomas Alfredson and written by Hossein Amini and Peter Straughan, based on Nesbo's novel, Michael Fassbender plays Hole, with the cast also including Rebecca Ferguson, Val Kilmer, Chloe Sevigny, Charlotte Gainsbourg, and J. K. Simmons.
Watch the trailer:
November 17: 
"Wonder"
R. J. Palacio's
WONDER
(Knopf Books for Young Readers), a multi-year #1 bestseller, with more than 6 million copies sold, and inspiration for the #ChooseKind movement, is the story of Auggie Pullman, an ordinary kid with an extraordinary face.  Born with a facial difference that for the first several years of his life prevents him from attending school, Auggie is finally allowed to enter fifth grade at Beecher Prep – but is the school ready for him?  In this long-awaited film, Julia Roberts and Owen Wilson star as the parents of Auggie, portrayed by Jacob Tremblay.  Stephen Chbosky directed and Steve Conrad wrote the screenplay, based on Palacio's book.
Watch the trailer:
December 15: 
"Ferdinand"
The Grosset & Dunlap classic children's book,
THE STORY OF FERDINAND
by
Munro Leaf
and illustrated by
Robert Lawson
, originally published in 1936, tells the story of the world's most peaceful and beloved bull, one that prefers smelling flowers to chasing red capes held by matadors in the bullfighting arenas of Spain.  FERDINAND, the movie, based on Leaf's book and directed by Carlos Saldanha, is a timeless tale of pacifism and nonviolence for all ages, and proves "you can't judge a bull by its cover."  Kate McKinnon, John Cena, Bobby Cannavale, and Gina Rodriguez are among the actors who give voice to the characters in the animated film.
Watch the trailer: 
July 28, 2017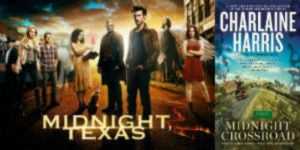 From Page to Screen:  this week NBC aired the premiere of Midnight, Texas, a new dramatic TV series based on Charlaine Harris' New York Times bestselling MIDNIGHT, TEXAS series of novels published by Ace.  The pilot drew in 3.6 million viewers and has received wonderful media attention, including features in TV Guide Magazine and People TV Watch.   
expand
The series also received a huge promotional push at San Diego Comic-Con, including an interactive experience and a
MIDNIGHT CROSSROAD
book signing with Charlaine and the series cast.  NBC has signed
Midnight, Texas
on for ten episodes, with a new episode premiering on Monday, July 31. This is the third of Harris' book series to be developed for television.  HBO had the phenomenal seven-season run of
True Blood
, based on the #1
New York Times
bestselling Sookie Stackhouse novels, and Hallmark Movies & Mysteries is currently airing and filming movies based on her Aurora Teagarden mystery series. Watch a video preview of the next episode of
Midnight, Texas:
https://www.youtube.com/watch?v=aq9tTOz_DuI